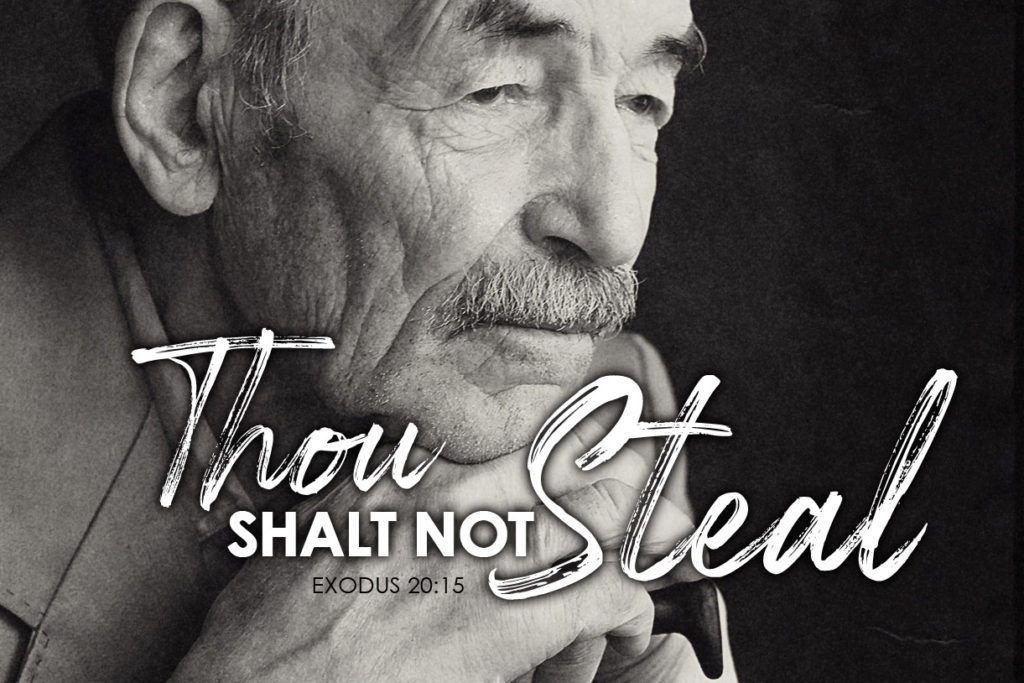 This is a relatively simple verse. It basically means don't take what's not yours, and pay for the things you acquire.
But, what about people who are poor and can't afford the same things as wealthy folks?
Why does God put poor folks in positions of need and want and test them further about stealing than the rich who can afford nice things, fancy clothes, mansions and luxury cars?
The answer to that question is as simple as the verse itself:
Because He equipped them to overcome temptation to steal.
When believers become a child of the heavenly Father, the Holy Spirit instills the fear of God in our hearts. On top of this healthy fear of God, just as scripture tells us, the Word teaches us about wealth vs Heaven…
It is easier for a camel to go through the eye of a needle than for a rich man to enter Heaven. Matthew 19:24
How is that possible, considering rich folks have so much less financial temptations in their lives than the poor, that those who are wealthy have a harder time getting into Heaven than the poor?
Fact is, the rich are not immune to sin, notably greed. As a matter of fact, is it the wealthiest people around who are known to be the most detestable patrons of all.
Take my father in law for example. Of his own accord, he is blessed to be a wealthy retiree with more money than he knows what to spend it on. So it's no secret he's eager to spoil his granddaughters because he can afford to do so.
As a matter of fact, just last week he took my wife (his beloved daughter Elizabeth) and our four girls Grace, Trinity, Faith and Mercy to a steakhouse in the Villages.
As they sat outside the restaurant waiting to be seated, and looked over the mouth watering menu, some things were said or heard, or perhaps even misheard and the outcome remains troubling to me.
It turns out when she returned from her day trip to the Villages, my 7 year old daughter told me she had to lie so her 11 year old sister could get her meal for free, although the free meal was intended for kids 10 years old & under.
And that REALLY hurt me.
It saddens me that although they have more love and money to pour out on our children than perhaps anyone we know, my father in law and/or his wife seemingly chose to teach his granddaughters (my children) and his own daughter for that matter, to deceive, to go as far as exposing them to a cruel nature of sin: Premeditation.
At least, that's what my daughters got out of their dining experience with Papa & Nana… 🙁
Did grandpa Terry or Nana Sue pay for Faith's meal or did they choose instead to steal from Cody's Steakhouse and consequently, lie about it all?
Only God knows.
And that's precisely the problem our family is facing: Because grandpa is a heathen who follows the wayward desires of this world, it is very unfortunate he does not realize he is SPOILING THEIR SOULS and leading my daughters into sin, into the desires of his heart which are of Satan, the enemy of God.
He's gone as far as cropping his own daughter (my wife Elizabeth) out of his "family" photos on Facebook, as he and his wife posed with her and our four children for a picture recently.
We are glad grandpa has continuously sought wisdom and enlightenment through his studies of Buddhism and other world religions and cults. But for us, Terry Ross has evolved into the very rich man described in the Bible, one who relies on his own record for salvation and redemption. Very unfortunately, Terry has evolved into a man who has no chance of rejoicing with God in Heaven.
Regarded as a complete fool by his granddaughters and his own daughter, those whom he claimed to love, Terry ended up hurting all of them just as he did his own siblings and his mother and father, then went on to destroy his own family by putting them through adultery, and eventually, divorce.
But he's not alone. Adultery and divorce among the wealthy are common as poor folks can't afford either.
After all, it costs quite a lot of money to have an affair, just think about it. Imagine living two lives, being in two relationships, then ending up giving away half of everything you worked for in a divorce. Then, there are lawyers…
All that horsing around costs a ton of money!
So if you value family, love God, your spouse and your children, you should focus on serving the One who created you for His glory.
So you see, poverty is not a sin rather it's an opportunity to serve God specially when one feels he or she does not have the nicest clothes or shoes to wear, fancy cars to drive or huge houses to live in.
It's not those who give in to sin and align themselves with the eternal destroyer, Satan who get the prize. No, the precious gift that comes along with faith only awaits those who place their trust in the Savior who truly loves us.
And that's the message here. That whoever believes in Jesus will be saved, and those who live for Christ should not steal.
Were able to glean and grow from this message so God can be further glorified and His Kingdom magnified? If so, I would love to hear from you. Follow this link to get in touch… Let's pray!
Father God;
We thank you for your presence in our lives,
We praise you Lord for the wisdom found in Moses' penmanship,
And we ask you Lord to help us find joy in your perfect plan.
Allow us to praise and love each other through faith in you Jesus,
Shield us from evil through your Word, salvation and prayer,
Guide us to abide by the truth as we spread the good news to one and all,
And lead the lost to You.
God we pray that you will continue to bless us,
To bless our lives and fill us with hope.
We ask you Lord to guide our footsteps and lead us to the way everlasting,
Through faith in you Lord we seek salvation and our place with you in Heaven
According to your ways, your everlasting wisdom and strength.
May your will be done, here on Earth and through the vast Universe,
May our hearts be filled with your everlasting love and grace.
Praises to You God, Amen!
This message was written by Daniel St.Pierre