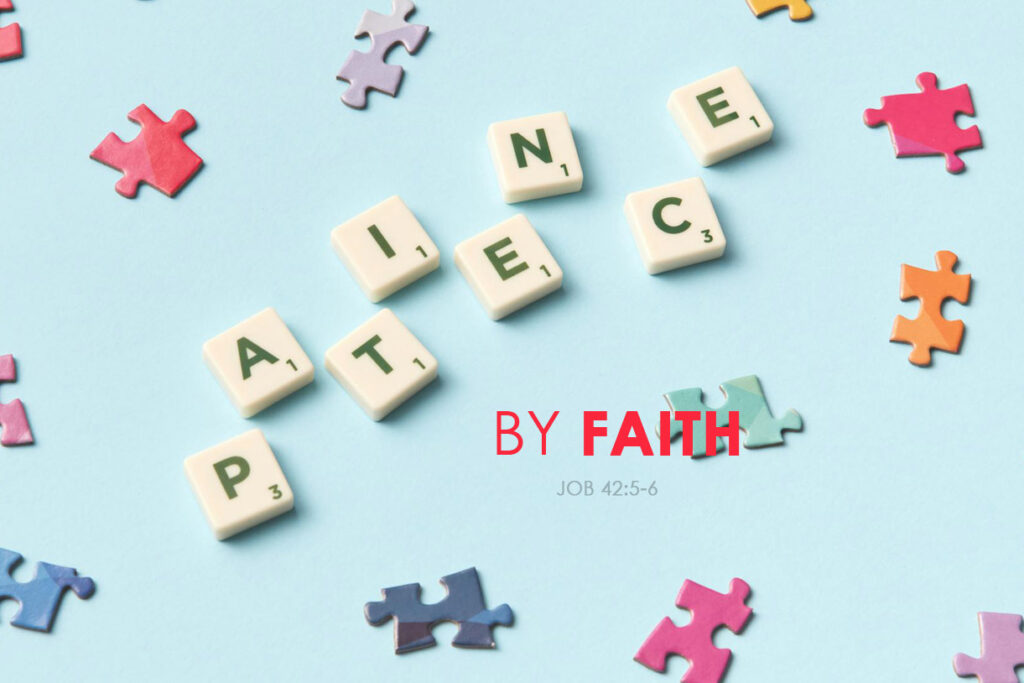 "I waited patiently for the Lord;
And He inclined to me,
And heard my cry. "

Psalm 40:1


Is God making you wait on Him?
Are you like me, seemingly stuck in Nowhereland, standing on the tracks of life facing a dark tunnel on one side, and a train coming right at you from the other side?
If you're facing disaster from multiple directions, there's good news! There's hope…
It starts with the divine wisdom encapsulated in Psalm 40:1, where the psalmist declares, "I waited patiently for the Lord; he turned to me and heard my cry." In these simple yet profound words, we find a timeless lesson on the virtue of patience and the transformative power it holds in our lives.
Patience is a virtue that often eludes us in our fast-paced and demanding world. We live in an era of instant gratification, where waiting is considered a burden rather than a virtue. However, the Bible consistently teaches us the importance of patience as a key component of our spiritual journey.
The psalmist's declaration resonates with a universal truth – the beauty and reward found in patiently waiting on the Lord. Waiting is not a passive act but a demonstration of our trust and faith in God's perfect timing. It is an acknowledgment that His plans are greater than our own, and His ways are beyond our understanding.
In the hurried rhythm of our lives, we are quick to seek our own solutions and outcomes. However, the psalmist's experience reminds us that God is not bound by our timelines; instead, He works in the fullness of time, orchestrating events in ways that exceed our human comprehension.
As we navigate the complexities of our lives, it's essential to recognize that waiting on the Lord is an active expression of faith. It requires us to surrender our desire for control and place our trust in the Almighty. Just as a seed patiently waits in the darkness of the soil to bloom into a beautiful flower, our patience allows God to cultivate His purposes in our lives.
The journey of patience is beautifully exemplified in the stories of biblical figures. Consider Abraham, who waited for years for the promised son, or Joseph, who endured years of hardship before seeing the fulfillment of God's plan. Their stories echo the sentiment that God's timing is perfect, even when our circumstances seem far from it.
Moreover, our Lord and Savior, Jesus Christ, serves as the ultimate embodiment of patience. From His humble birth to His sacrificial death on the cross, Jesus demonstrated unwavering patience in fulfilling the Father's will. His life serves as a powerful testament to the redemptive nature of patience and the eternal reward that awaits those who endure with faith.
In our impatience, we may be tempted to take matters into our own hands, to forge our path without divine guidance. However, the consequences of hastiness often lead us away from God's intended blessings. The waiting period, though challenging, is an opportunity for spiritual growth, refinement, and alignment with God's purpose for our lives.
As we reflect on Psalm 40:1, let us internalize the lesson of patient waiting. Our Heavenly Father hears our cries, and in His perfect time, He turns towards us. Let us resist the urge to rush ahead of God's plan and, instead, find solace and strength in patiently waiting for His divine intervention.
The virtue of patience is not a passive endurance of circumstances but an active, persistent, and trust-filled waiting on the Lord. It is my hope and prayer that you will be inspired by the psalmist's declaration and will seek to cultivate a spirit of patient expectation in your life.
As we wait on the Lord, let us be assured that He will turn towards us, hearing our cries and orchestrating a beautiful masterpiece from the threads of our waiting.
Were you able to glean and grow from this message so God can be further glorified and His Kingdom magnified? If so, I would love to hear from you. Follow this link to get in touch… Let's pray!
Father God;
We thank you for your presence in our lives,
We praise you Lord for the wisdom bestowed upon King David,
And we ask you Lord to help us find joy in your perfect plan.
Allow us to praise and love each other through faith in you Jesus,
Shield us from evil through your Word, salvation and prayer,
Guide us to abide by the truth as we spread the good news to one and all,
And lead the lost to You.
God we pray that you will continue to bless us,
To bless our lives and fill us with hope.
We ask you Lord to guide our footsteps and lead us to the way everlasting,
Through faith in you Lord we seek salvation and our place with you in Heaven
According to your ways, your everlasting wisdom and strength.
May your will be done, here on Earth and through the vast Universe,
May our hearts be filled with your everlasting love and grace.
Praises to You God, Amen!
This message was written by Daniel St.Pierre