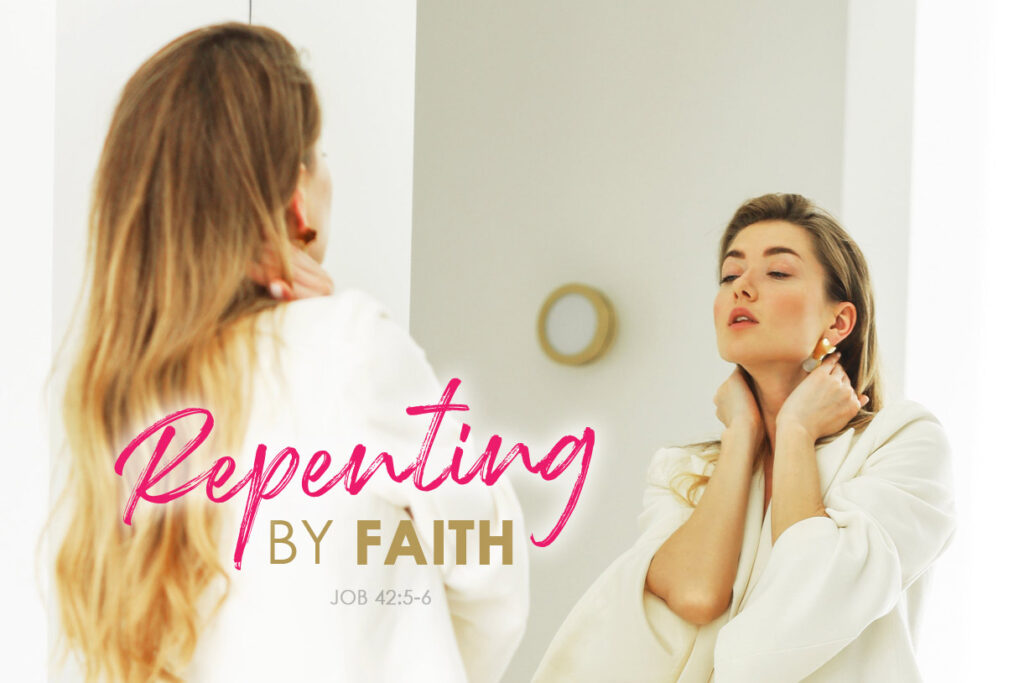 "5 I have heard of You by the hearing of the ear,
But now my eye sees You.
6 Therefore I abhor myself,
And repent in dust and ashes."

Job 42:5-6


It's been a rough few weeks for me. To put it mildly, I went through Hell…
So today, I felt led to dig into the profound theme of repentance, guided by the wisdom and experiences of Job, who to me, has become a lot more than another biblical figure. In the book of Job, I found a powerful testimony of repentance in Job 42:5-6.
Let's explore the transformative journey of Job and draw lessons that resonate with our own lives.
I. The Story of Job:
Job, a righteous and prosperous man, faced unimaginable trials – losing his wealth, health, and even his children. Despite the depth of his suffering, Job maintained his integrity and faith in God. However, as the narrative unfolds, we witness a transformative moment when Job is confronted by the Almighty.
II. The Revelation of God's Majesty:
In Job 38-41, God reveals the magnitude of His wisdom and power to Job. As God speaks from the whirlwind, Job is humbled before the Creator of the universe. The overwhelming realization of God's majesty prompts Job to acknowledge his finite understanding and utter insignificance in comparison to the Almighty.
III. The Turning Point: Job 42:5-6:
Job's response in Job 42:5-6 is pivotal: "I had heard of you by the hearing of the ear, but now my eye sees you; therefore I despise myself, and repent in dust and ashes." This confession reflects Job's profound transformation. He moves from a distant knowledge of God to a deeply personal encounter, leading to genuine repentance.
IV. Lessons on Repentance:
A. Humility Before God:
Job's acknowledgment of his limited understanding serves as a powerful lesson. Repentance begins with humility, recognizing our human limitations and acknowledging the incomprehensible majesty of God. In the light of His greatness, our pride and self-sufficiency crumble, making room for repentance.
B. True Repentance Comes from Seeing God:
Job's words, "now my eye sees you," reveal that genuine repentance stems from encountering the living God. It is not merely about remorse for past actions but a deep awareness of God's character and our relationship with Him. True repentance is an intimate, transformative experience that springs from a personal revelation of the divine.
C. Repentance Requires Self-Reflection:
Job's repentance involves despising himself. This is not self-hatred but a sincere self-reflection that exposes the flaws, sins, and areas in need of transformation. Repentance demands an honest evaluation of our hearts, recognizing the need for change and submitting ourselves to the purifying work of God.
D. Repentance Leads to Action:
Job's repentance is not confined to words; it is demonstrated through his physical posture – in dust and ashes. Repentance involves a tangible turning away from sin, a commitment to righteous living, and a willingness to embrace God's transformative grace. It is a dynamic process that propels us towards a life aligned with God's will.
V. Application to Our Lives:
As we reflect on Job's journey of repentance, we find parallels in our own lives. Like Job, we may face trials, uncertainties, and moments of spiritual complacency. In those times, let's seek a personal encounter with the Almighty, allowing His transformative presence to lead us to genuine repentance.
The story of Job's repentance is not only a beacon of hope, it teaches us that no matter how far we may have strayed, the grace of God is always available for those who humbly turn to Him.
May we, inspired by Job's example, embrace the transformative power of repentance and experience the fullness of God's mercy and restoration in our lives.
Were you able to glean and grow from this message so God can be further glorified and His Kingdom magnified? If so, I would love to hear from you. Follow this link to get in touch… Let's pray!
Father God;
We thank you for your presence in our lives,
We praise you Lord for the wisdom bestowed upon Job,
And we ask you Lord to help us find joy in your perfect plan.
Allow us to praise and love each other through faith in you Jesus,
Shield us from evil through your Word, salvation and prayer,
Guide us to abide by the truth as we spread the good news to one and all,
And lead the lost to You.
God we pray that you will continue to bless us,
To bless our lives and fill us with hope.
We ask you Lord to guide our footsteps and lead us to the way everlasting,
Through faith in you Lord we seek salvation and our place with you in Heaven
According to your ways, your everlasting wisdom and strength.
May your will be done, here on Earth and through the vast Universe,
May our hearts be filled with your everlasting love and grace.
Praises to You God, Amen!
This message was written by Daniel St.Pierre