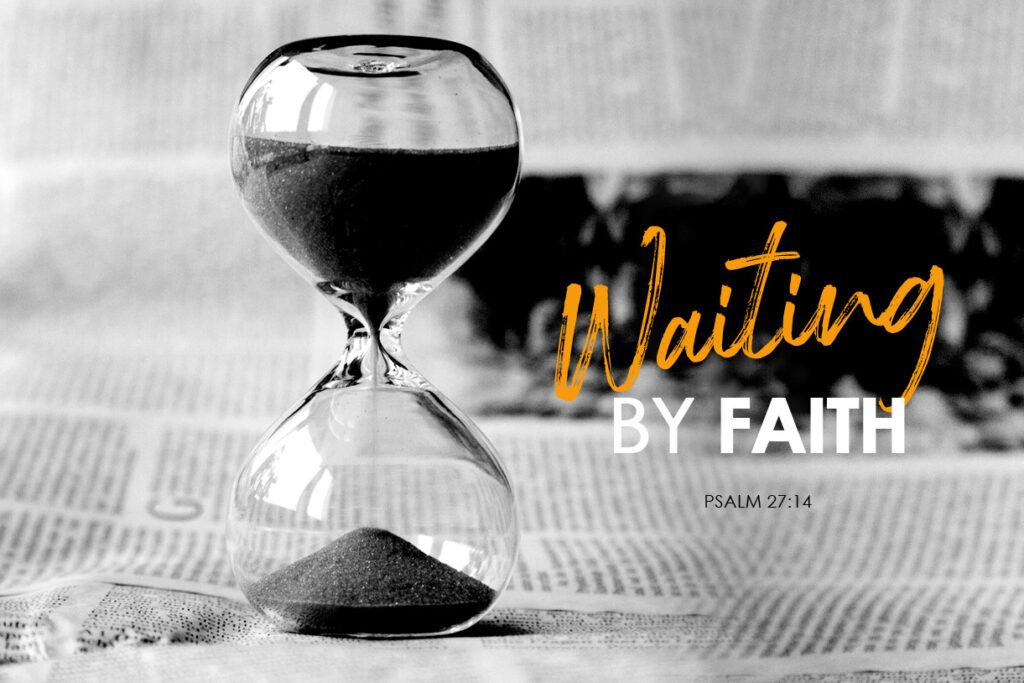 " 14 Wait on the Lord;
Be of good courage,
And He shall strengthen your heart;
Wait, I say, on the Lord!"

Psalm 27:14
It's no secret most of us don't exactly like waiting for anything.
We wait in traffic, in line and on the phone. We're always waiting for something.
As a kid, I remember waiting for my dad to pick me up from basketball practice after school. I'd wait for hours, sometimes outside the school in winter storms because the school had closed, and my father forgot to pick me up… Again.
Truth is, waiting sucks.
So, when God tells us to wait on Him, and He even says it twice in the same sentence, then I know He means business.
But, what does it actually mean to wait on the Lord?
For many, this means spending time in prayer and seeking God's will.
For others, waiting on the Lord is achieved through listening, hearing God's voice through the lips of other people He's placed on our path.
For me, waiting on God means looking to Him for guidance, as my shepherd, and wait for Him to lead me.
There are numerous ways to wait on God, and the benefits stretch far beyond spiritual growth.
Waiting on the Lord through prayer fosters our desire for a connection with our heavenly Father, and allows us to hear His voice.
Waiting on God through meditation produces a sense of calm, peace and balance that can benefit both our emotional well-being and your overall health.
In plain English, waiting on the Lord is good, and holy.
Waiting on the Lord is so good, God even tells us that wings await those who wait on Him…
" 31 But those who wait on the Lord
Shall renew their strength;
They shall mount up with wings like eagles,
They shall run and not be weary,
They shall walk and not faint."

Isaiah 40:31
See?
God's promise is simple. When He doesn't give us the answer, and we can't figure it out on our own, for His glory, then we just gotta wait.
Wait on God to give us his answer, or for the Holy spirit to guide us.
Easy peasy.
Why is God telling us to wait on Him?
In most cases, it's to prevent us from doing something stupid. Or doing something that could be harmful to others, or to ourselves.
Either way, God commands us to wait sometimes… So let's go ahead and do that…
Bottom line is, when there's no clear path, wait on the Lord!
Were you able to glean and grow from this message so God can be further glorified and His Kingdom magnified? If so, I would love to hear from you. Follow this link to get in touch… Let's pray!
Father God;
We thank you for your presence in our lives,
We praise you Lord for the wisdom bestowed upon Paul and John,
And we ask you Lord to help us find joy in your perfect plan.
Allow us to praise and love each other through faith in you Jesus,
Shield us from evil through your Word, salvation and prayer,
Guide us to abide by the truth as we spread the good news to one and all,
And lead the lost to You.
God we pray that you will continue to bless us,
To bless our lives and fill us with hope.
We ask you Lord to guide our footsteps and lead us to the way everlasting,
Through faith in you Lord we seek salvation and our place with you in Heaven
According to your ways, your everlasting wisdom and strength.
May your will be done, here on Earth and through the vast Universe,
May our hearts be filled with your everlasting love and grace.
Praises to You God, Amen!
This message was written by Daniel St.Pierre