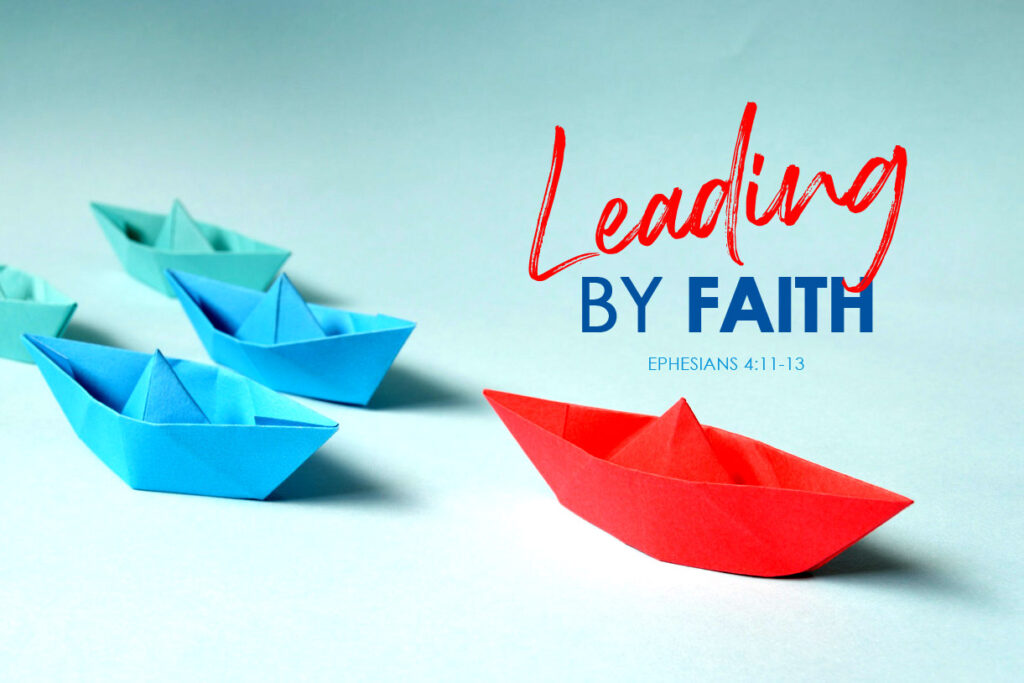 " 11 And He Himself gave some to be apostles, some prophets, some evangelists, and some pastors and teachers, 12 for the equipping of the saints for the work of ministry, for the edifying of the body of Christ, 13 till we all come to the unity of the faith and of the knowledge of the Son of God, to a perfect man, to the measure of the stature of the fullness of Christ;"

Ephesians 4:11-13
When it comes to leadership among God's flock, there's no two ways about it: Talk the talk, and walk the walk.
Christian leaders are called to be servants, and to model ourselves after Jesus, the One who created us and the only perfect being to ever walk the earth.
Jesus came to deliver us from the wages of sin, and He did so in love, by His grace and mercy.
Although He was God in the flesh and possessed divine powers, Jesus chose to live a humble life. He allowed Himself to be persecuted, nailed to a cross and put to death.
Jesus loves us so much, He gave His life for us.
11 "I am the good shepherd. The good shepherd gives His life for the sheep."

John 10:11
And that's precisely the mentality Christian leaders should embrace. Since our lives are not our own to begin with, serving God diligently should not be such a challenge.
But in America, God's servants are blessed far beyond our deserving.
Wrapped in comfort, housed in luxury, few of God's servants seek the type of opportunities that come at a cost. The kind of missions that are outright sacrificial, rather than personally beneficial are not among the most popular ministries.
And that's a problem.
When Christians are comfortable, they are less likely to reach out for help and very unlikely willing to give up comfort and trade it for pain.
It takes an extraordinary person to go out of his or her way to serve a Creator we cannot see or touch.
Or, it takes an ordinary person with faith…
Faith in God, a kind of hope that's overflowing, trust that's never ending.
The kind of faith that's heard, and seen.
Christian leaders are called to talk the talk, to preach the Word to the four corners of the earth.
Leaders are also called to walk the walk, which translates into the day to day actions of servants of God.
Christian leaders are called to lead by example as we walk the narrow path to heaven, where God awaits His faithful servants.
This is easier said than done…
The good news is, God provides us with all the tools we need to overcome the challenges that He places before each one of us.
The tools are found in His holy and precious Word, where God teaches us about His ways and, the way we should go.
Next, God uses worship to encourage and stir up His Saints, and in turn we sing and give Him praise.
As iron sharpens iron, God also uses fellowship to help leaders stay on track through accountability, support and even rebuke, when commanded by our divine Father.
Lastly, Christian leaders should dwell in prayer where we can find refuge, hope and courage to take up our cross, and follow in the footsteps of the greatest leader who ever lived… Jesus, the Christ!
Were you able to glean and grow from this message so God can be further glorified and His Kingdom magnified? If so, I would love to hear from you. Follow this link to get in touch… Let's pray!
Father God;
We thank you for your presence in our lives,
We praise you Lord for the wisdom bestowed upon Paul and John,
And we ask you Lord to help us find joy in your perfect plan.
Allow us to praise and love each other through faith in you Jesus,
Shield us from evil through your Word, salvation and prayer,
Guide us to abide by the truth as we spread the good news to one and all,
And lead the lost to You.
God we pray that you will continue to bless us,
To bless our lives and fill us with hope.
We ask you Lord to guide our footsteps and lead us to the way everlasting,
Through faith in you Lord we seek salvation and our place with you in Heaven
According to your ways, your everlasting wisdom and strength.
May your will be done, here on Earth and through the vast Universe,
May our hearts be filled with your everlasting love and grace.
Praises to You God, Amen!
This message was written by Daniel St.Pierre