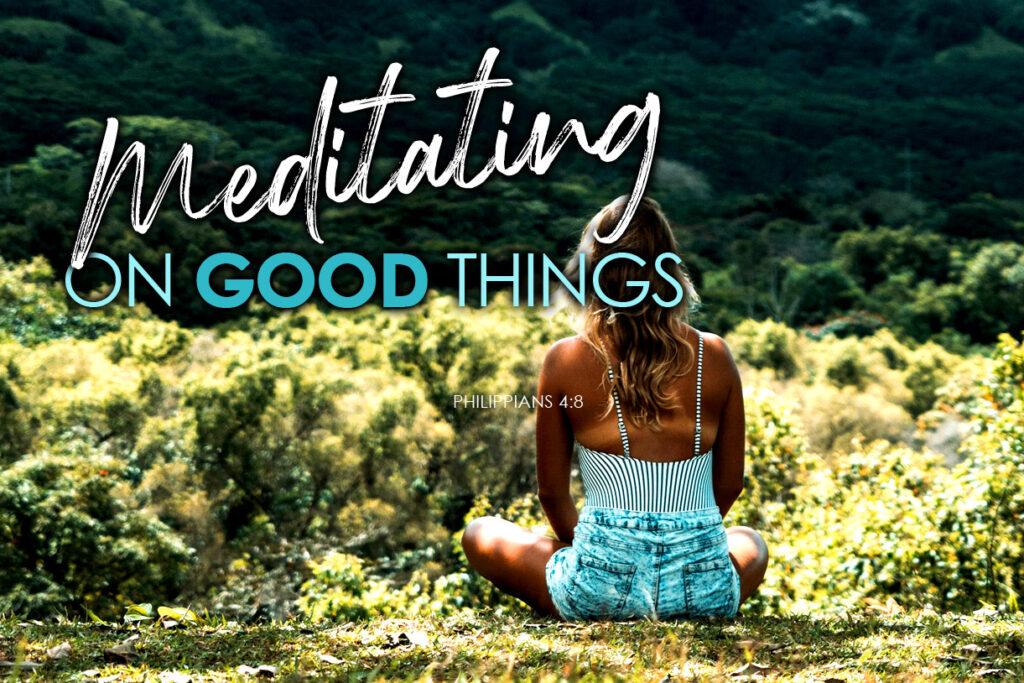 "8 Finally, brethren, whatever things are true, whatever things are noble, whatever things are just, whatever things are pure, whatever things are lovely, whatever things are of good report, if there is any virtue and if there is anything praiseworthy—meditate on these things."

Philippians 4:8
We all know how easy it is to dwell on negative things in life, specially during rough, frustrating or even painful days.
And that's precisely why it's so important to dwell on this verse until good things flow on their own during prayer and meditation.
God placed this scripture in His word to help us through challenging times, so we can lean on Him for peace of mind, for hope.
But Satan is always on the offensive, and we can count on the angel of darkness to continue to sow despair, sadness, anger, or else to separate you from the love of God.
Through this verse, Paul provides a way for us to thwart Satan's mission.
Dwelling in this scripture will allow us to feed our souls with goodness from God, so we can focus on the countless good things in our lives.
We are to nourish our souls with whatever is pure, lovely, admirable, excellent, or praiseworthy, good things that will help us stay focused on God's love for us.
But, when life gets hard, when it's near impossible to clear our minds to seek God's peace, that's when we need to fill our souls the most.
When we're least likely to seek God should be the perfect time to reach out to our heavenly Father, the One who loves us unconditionally, the One who died for us on the cross.
God desires for us to serve, love and honor Him. He makes no promises as to the number of challenges we will face in life, but He does provide a way for us to find peace and solace, in spite of the mountains we must climb, the waves we battle, the enemy we fight.
Through meditation and focus on good things, we can harvest God's peace and live each day with our souls filled with love, hope, faith, and gratefulness.
Continue to reach out to God with your praise, worship, concerns and desires. His peace awaits…
Were you able to glean and grow from this message so God can be further glorified and His Kingdom magnified? If so, I would love to hear from you. Follow this link to get in touch… Let's pray!
Father God;
We thank you for your presence in our lives,
We praise you Lord for the wisdom found through Paul,
And we ask you Lord to help us find joy in your perfect plan.
Allow us to praise and love each other through faith in you Jesus,
Shield us from evil through your Word, salvation and prayer,
Guide us to abide by the truth as we spread the good news to one and all,
And lead the lost to You.
God we pray that you will continue to bless us,
To bless our lives and fill us with hope.
We ask you Lord to guide our footsteps and lead us to the way everlasting,
Through faith in you Lord we seek salvation and our place with you in Heaven
According to your ways, your everlasting wisdom and strength.
May your will be done, here on Earth and through the vast Universe,
May our hearts be filled with your everlasting love and grace.
Praises to You God, Amen!
This message was written by Daniel St.Pierre