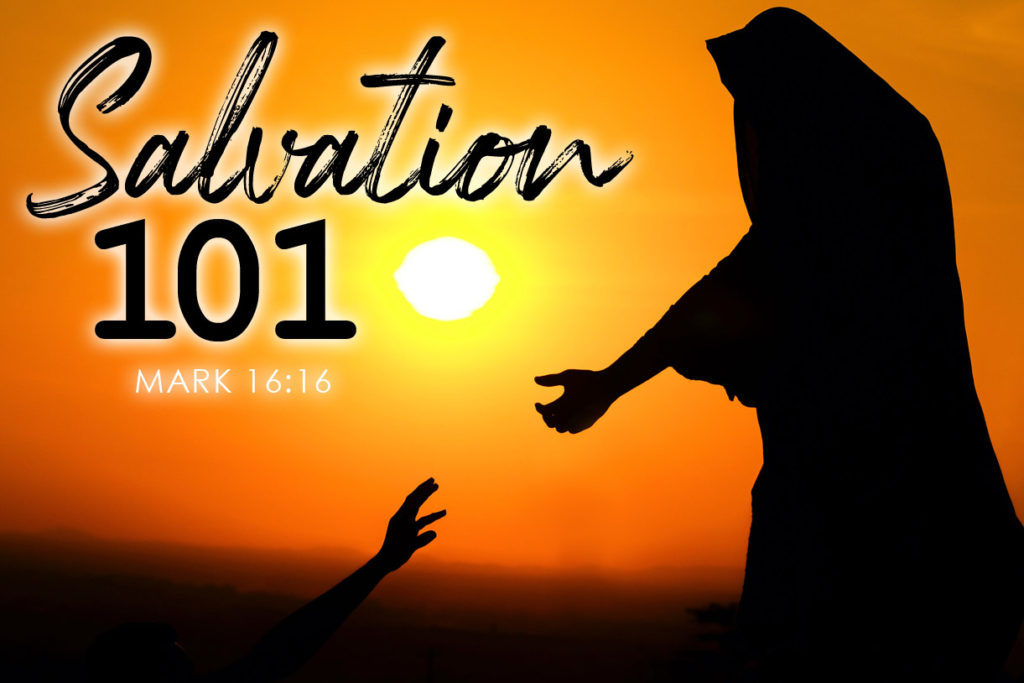 "16 He who believes and is baptized will be saved; but he who does not believe will be condemned."

Mark 16:16
I was baptized twice.
The first time, I was an infant and I was baptized in Montreal, in a Catholic church. I had no idea what was happening as I was forced to take part in a meaningless religious ritual.
The second time took place in Florida, in the Tampa Bay following a Sunrise Service I attended with my family.
Needless to say, the second time I was baptized, I knew precisely was I was doing.
I displayed my faith in Jesus publicly.
See how it works?
First, we must believe. Then, we must be baptized.
But, believe "what" exactly?
If you believe that Jesus was God in the flesh, that He lived a sin less life and that He died on the cross at Calvary, then rose from the dead on the third day, walked among the living for a time and ascended to Heaven, if you believe this then you too are born again of your faith in the Savior!
Faith alone is enough.

"8 For by grace are ye saved through faith; and that not of yourselves: it is the gift of God ."

Ephesians 2:8
I met a man named Ed earlier this week, a Catholic believer who seems to be struggling with the Catholic Church. He shared how sexual abuse and other scandals within the Catholic Church are preventing him from nurturing his relationship with God, and other Christians.
When I started to talk about Salvation, he praised me for being a "good" person and that the presence of God was felt throughout our homestead, and this was "sufficient" to earn a ticket to Heaven…
I jumped on the opportunity to evangelize and enlighten Ed by reminding him all he had to do is believe to be saved from the wages of sin.
When I asked Ed if he believed, he said YES! I do!
And that's where it starts.
First, you must believe.
And that's what you need to know about Salvation.
Now that you know the basis for Salvation, and you're equipped with a simple process by which anyone can be saved from eternity in Hell, go out and make disciples!
Believe in Jesus, trust Him with your life and go out in His name knowing God will look after you as you strive to further His kingdom.
Remember, He will never forsake you.

"22 Cast your cares on the Lord and he will sustain you; he will never let
   the righteous be shaken."

Psalm 55:22

Were able to glean and grow from this message so God can be further glorified and His Kingdom magnified? If so, I would love to hear from you. Follow this link to get in touch… Let's pray!
Father God;
We thank you for your presence in our lives,
We praise you Lord for the wisdom found through Mark's Gospel,
And we ask you Lord to help us find joy in your perfect plan.
Allow us to praise and love each other through faith in you Jesus,
Shield us from evil through your Word, salvation and prayer,
Guide us to abide by the truth as we spread the good news to one and all,
And lead the lost to You.
God we pray that you will continue to bless us,
To bless our lives and fill us with hope.
We ask you Lord to guide our footsteps and lead us to the way everlasting,
Through faith in you Lord we seek salvation and our place with you in Heaven
According to your ways, your everlasting wisdom and strength.
May your will be done, here on Earth and through the vast Universe,
May our hearts be filled with your everlasting love and grace.
Praises to You God, Amen!
This message was written by Daniel St.Pierre