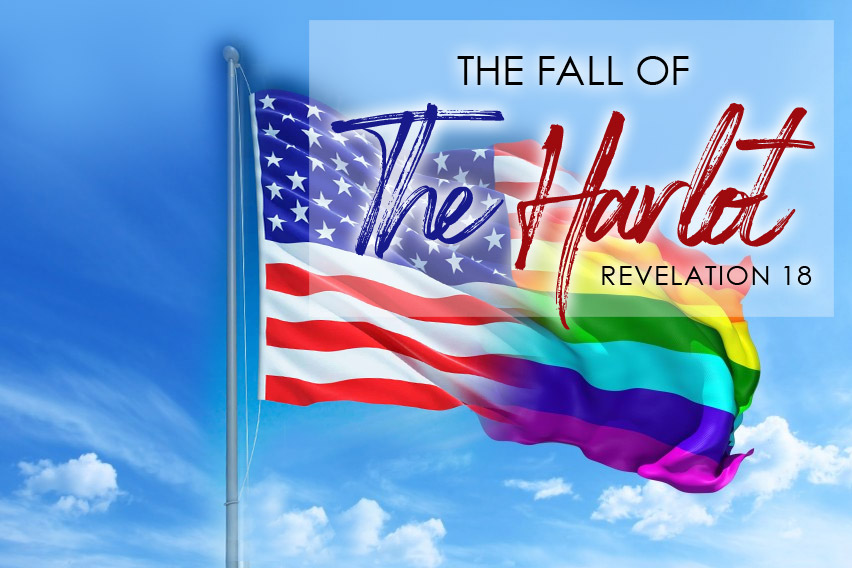 "8 Therefore her plagues will come in one day—death and mourning and famine. And she will be utterly burned with fire, for strong is the Lord God who judges her. "

Revelation 18:8
Less than a week after Memorial Day, when Americans honored those who paid the ultimate price for our freedom, we are now immersed in Pride Month.
For an entire month, in every city across our great nation, Americans are encouraged to embrace and celebrate homosexuality.
This is not a joke.
Americans devote a single day to our war heroes and their loved ones. But lesbians, gays, bisexual and transgender folks get an entire month of government sponsored festivities, including Gay Pride parades at tax payers' expense.
Unfortunately for America, that's only the tip of the iceberg…
For decades, America has turned its back on God and allowed Satan to infiltrate all levels of its government.
And yes, obviously, including the corrupt leader of the free world who resides in the White House.
In America, Porn Helps Pay For The Wages Of Elected Officials
Did you know pornography is not only legal in the United States, it's actually taxed?
That's right!
The production of pornographic content including photographs and videos, magazines, DVDs and websites and the sale of said content is indeed legal in the US, and the sales taxes taxes associated with pornographic content are used to build bridges, fix roads and yes, pay salaries of elected officials.
But Americans don't stop there.
It's the same with abortion, divorce, gambling, gluttony, pride and the worst sin of all for a nation that's living apart from the One true God: Idolatry.
America has entered into its final season upon the Earth.
God is not pleased with the people of this great nation. He has already started punishing those who He blessed with undeserving abundance, so much so that they became drunk on their found success, then threw all of it away by trying to play the role of God.
Tolerance of sin is not love. It's foolishness!
America has been tolerant of sexual transgression for too long, and it is through idols that such an abomination continues to be justified.
From musicians to politicians, sports athletes, TV & movie stars and even the world's richest men, Americans are putting people on altars who are clearly not God.
In His word, the Lord teaches us about such men and women:
"8 These people honor me with their lips, but their hearts are far from me."

Matthew 15:8
Fact is, right now in America, government and police buildings are on fire across our nation, and there is flippant defiance of the law everywhere you look.
Stores are looted with no legal recourse, innocent people are violently attacked on the streets and on public transportation, cops are ambushed and shot dead.
One of the most commonly used word to describe the status of America in 2021 is "chaos."
And chaos is of the enemy.
The bad news is, there is no hope for America. At least, no biblical hope.
Because it chose to turn away from God, America will continue to suffer great losses and eventually, when God appoints the time, the Great Harlot will fall and receive its due wage when it's consumed by fire.
The good news?
Those who place their trust in Jesus and choose to believe will be saved from the fiery end that awaits America and those who laid with, and promoted her fornication.
The only way out is through faith in God and His begotten Son, Jesus.
To him who has an ear, let him hear.
Were able to glean and grow from this message so God can be further glorified and His Kingdom magnified? If so, I would love to hear from you. Follow this link to get in touch… Let's pray!
Father God;
We thank you for your presence in our lives,
We praise you Lord for the wisdom found through John's Revelation,
And we ask you Lord to help us find joy in your perfect plan.
Allow us to praise and love each other through faith in you Jesus,
Shield us from evil through your Word, salvation and prayer,
Guide us to abide by the truth as we spread the good news to one and all,
And lead the lost to You.
God we pray that you will continue to bless us,
To bless our lives and fill us with hope.
We ask you Lord to guide our footsteps and lead us to the way everlasting,
Through faith in you Lord we seek salvation and our place with you in Heaven
According to your ways, your everlasting wisdom and strength.
May your will be done, here on Earth and through the vast Universe,
May our hearts be filled with your everlasting love and grace.
Praises to You God, Amen!
This message was written by Daniel St.Pierre