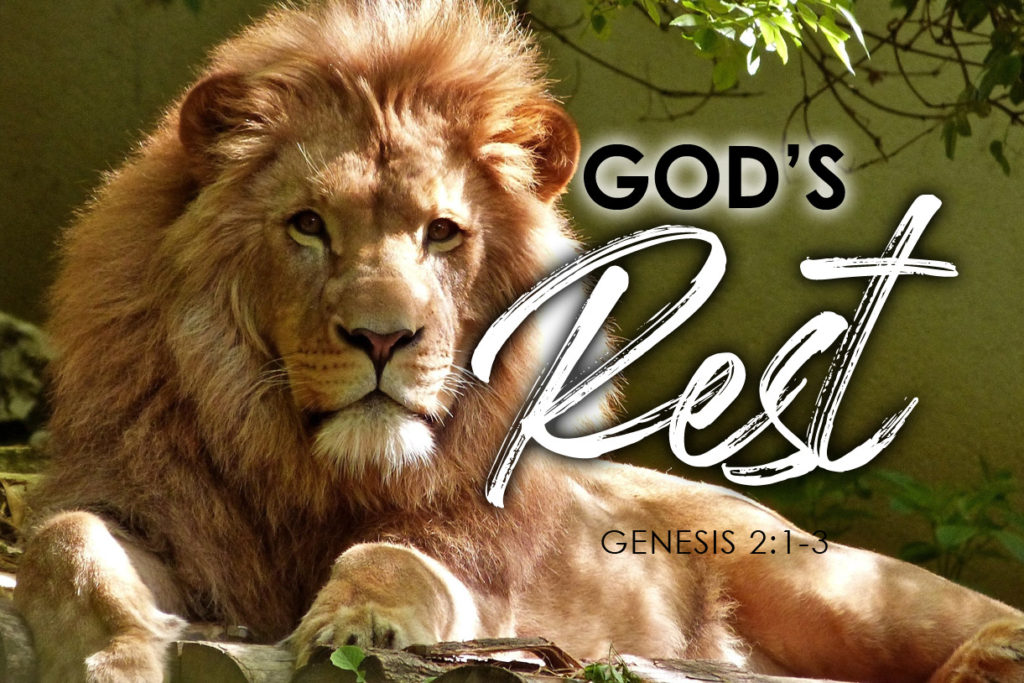 "2 Thus the heavens and the earth, and all the host of them, were finished. 2 And on the seventh day God ended His work which He had done, and He rested on the seventh day from all His work which He had done. 3 Then God blessed the seventh day and sanctified it, because in it He rested from all His work which God had created and made."

Genesis 2:1-3
The enemy has been hard at work at the St.Pierre's lately, and this is clearly because we have been diligent servants of the Lord.
And it was through prayer that God revealed I was guilty of grave sin in my life.
I disregarded God's command for man to rest.
Before you imagine I never sleep, I assure you that's not it at all. I do go to bed each night like most of God's creation, and eventually fall asleep and get rest that way.
But that's not the kind of rest Moses wrote about…
We'll get to that in a bit, but first, let's talk about physical rest.
It wasn't until today that I realized my hyperactivity has overcome my life, and because I work from home, I've let my work take over every single day of the week.
And that's not what God calls me to do. Or you, for that matter!
Just as scripture teaches us, God worked for 6 days and rested on the seventh day, which He called "blessing of heaven."
God not only rested on the seventh day, but He sanctified and set apart the last day of the week as a holy day. The first actual holiday.
On the Jewish calendar, the Sabbath Day begins on the sixth day of the week, Friday after sunset, and lasts an entire day of rest, until sunset on Saturday.
For American Christians, Sunday is regarded as the biblical day of rest.
But I work Sundays.
Sundays are the first day of my work week, so it makes sense that I try and rest on Saturdays.
But I work on Saturdays.
Each Saturday morning, I volunteer as a flight commander, cook, coach, umpire or referee in church leagues until 1-2pm.
Mondays are completely out of the question, because I work Mondays. Each Monday for over 3 years, I haul hundreds of pounds of produce from the Webster Farmers Market to keep our "Food Is Free" food cart stocked throughout the week.
What about Tuesdays? Wednesdays? Thursdays or Fridays? With four daughters living at home, a thriving home based ministry, business and farm, I gotta say it's not looking too good for me and days of rest anytime soon… 🙁
And that's only the physical aspect of my transgression against God. I've been abusing my body, His temple.
I have been putting everything else before God's command to rest simply because I regard such a day of rest as a waste of time, energy, money and passion.
But that's not up to me to decide.
God doesn't care what you or I think about rest days. All He cares about is that we obey Him with a joy filled heart because He knows what's best.
What About Spiritual Rest?
On the seventh day, God rested spiritually.
We are also called to rest spiritually.
Spiritual rest simply involves silence, peace and tranquility.

"3 You will keep in perfect peace those whose minds are steadfast, because they trust in you."

Isaiah 26:3
Here, God's message is clear.
Work hard for 6 days for His glory, and on the seventh day, through the Holy Spirit who dwells within all believers, He will give you peace according to your works.
So today, I'm resting. 🙂
Well, I will rest as soon as I publish this message.
And you should do the same.
Are you unable to take a day of physical rest and spiritual rest due to overwhelming responsibilities in your life?
There's hope!
If you need rest, go to Jesus, go to His word, go to Him in prayer, in worship, in hope…

"8 Come to Me, all you who labor and are heavy laden, and I will give you rest. 29 Take My yoke upon you and learn from Me, for I am gentle and lowly in heart, and you will find rest for your souls. 30 For My yoke is easy and My burden is light."

Matthew 11:28-30
The only Father who truly loves you and me is God. And He will never forsake you. He is waiting for you to go to Him…
Were able to glean and grow from this message so God can be further glorified and His Kingdom magnified? If so, I would love to hear from you. Follow this link to get in touch… Let's pray!
Father God;
We thank you for your presence in our lives,
We praise you Lord for the wisdom found through Moses,
And we ask you Lord to help us find joy in your perfect plan.
Allow us to praise and love each other through faith in you Jesus,
Shield us from evil through your Word, salvation and prayer,
Guide us to abide by the truth as we spread the good news to one and all,
And lead the lost to You.
God we pray that you will continue to bless us,
To bless our lives and fill us with hope.
We ask you Lord to guide our footsteps and lead us to the way everlasting,
Through faith in you Lord we seek salvation and our place with you in Heaven
According to your ways, your everlasting wisdom and strength.
May your will be done, here on Earth and through the vast Universe,
May our hearts be filled with your everlasting love and grace.
Praises to You God, Amen!
This message was written by Daniel St.Pierre