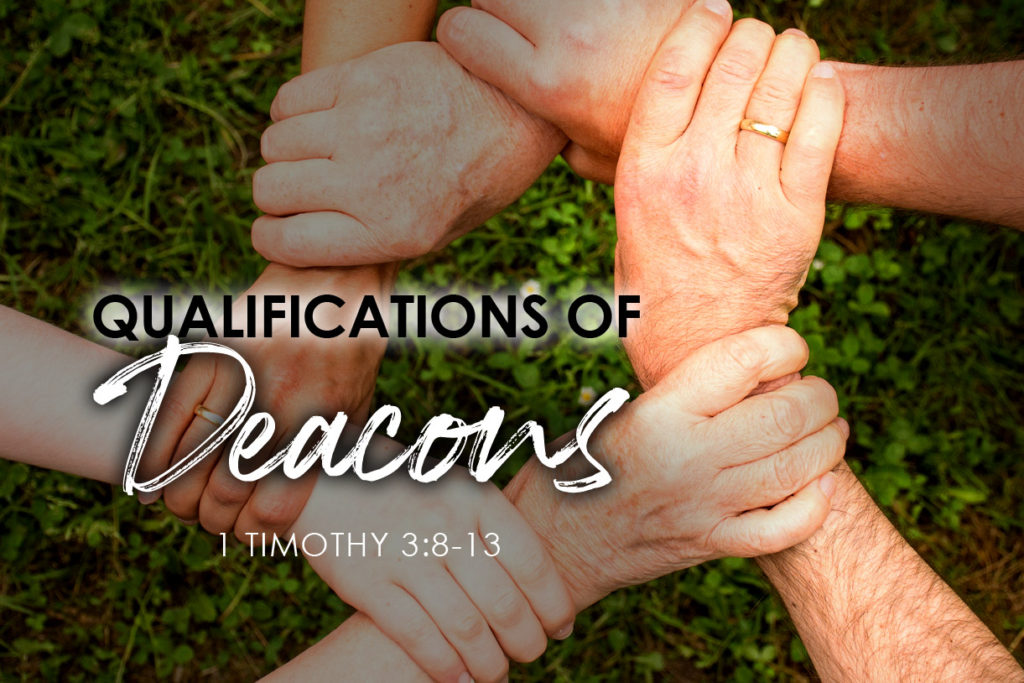 "8 Likewise deacons must be reverent, not double-tongued, not given to much wine, not greedy for money, 9 holding the mystery of the faith with a pure conscience. 10 But let these also first be tested; then let them serve as deacons, being found blameless. 11 Likewise, their wives must be reverent, not slanderers, temperate, faithful in all things. 12 Let deacons be the husbands of one wife, ruling their children and their own houses well. 13 For those who have served well as deacons obtain for themselves a good standing and great boldness in the faith which is in Christ Jesus. "

1 Timothy 3:8-13
This is a source of controversy within God's church, but God's commands in Paul's letter are clear and concise.
To be a deacon in Christ's church, one must have overcome basic challenges that come along the Christian life.
What exactly is a Deacon?
The Greek term Paul used in his letter to Timothy is "diakonos" which simply means "helper."
While the word itself and its meaning are certainly simple, the qualifications for such a helper within God's church are not as common as you would think these days… Even within your own fellowship!
For starters, church deacons are appointed by elders and not just hired hands off the street or from a wanted ad. And that's a good thing.
Deacons ares typically responsible for helping pastors in a countless number of capacities, including administrative and janitorial duties, prayer & counseling, teaching & preaching, community outreach, etc.
The tasks themselves are very basic in nature, and often the works of deacons take shape within the body where children are involved.
Other than kids, deacons interact with the elderly, new believers and fragile souls, because of this they must be held to a higher standard than lay folks within the flock.
This is why God chose Paul's ministry in Ephesus to lay out His qualifications for deacons within His church.
Deacons are appointed based on spiritual qualifications, which include faith, wisdom, honesty and sincerity. God also calls on church deacons to be of sober mind, to be a "one woman man," to father respectful children and lastly, that deacons have authority over their house.
Must a deacon be a married man?
Yes, by today's culture, a church deacon must be a man who is married to one woman.
Can a divorced man be a church deacon?
No, he cannot. By today's culture, divorced men do not qualify as meeting the biblical standard for a "one woman man."
There are other roles within God's church for men who are blessed with life experiences and marital wisdom not found in deacons.
Must deacons have children?
Yes, they must. Deacons are appointed by elders and ordained by the congregation, and they are constantly under the scrutiny of young eyes within the body. As such, church deacons must be seasoned fathers whose children are praised as honorable and respectful.
Why must a deacon rule over his house?
God finds no delight in a man who cannot rule over his wife and children, for if a man know not how to rule his own house, how shall he take care of the church of God?
And so it is for deacons of God's church. They must rule over their household.
See? Not so complicated, right?
Many will argue that God's word is not 100% clear on deacon qualifications. Often when this is the case, you'll find that "special circumstances" are associated with deacons who do not meet biblical criteria.
On that topic, it is important to point out this ministry does not support fellowships who rewrite scripture to suit their leadership needs. To overlook, ignore or rewrite the words found in the Bible is a transgression against God, and an invitation for His wrath to be cast upon those who sinned against Him.
What is a deacon?
A deacon is a first and foremost an appointed devout Christian church leader who is an ordained helper of the pastoral staff within the body.
A deacon is a married man who was never divorced, a father with respectful children who praise him and his works throughout their community. A deacon rules over his house, and his wife.
Were able to glean and grow from this message so God can be further glorified and His Kingdom magnified? If so, I would love to hear from you. Follow this link to get in touch… Let's pray!
Father God;
We thank you for your presence in our lives,
We praise you Lord for the wisdom found through Moses,
And we ask you Lord to help us find joy in your perfect plan.
Allow us to praise and love each other through faith in you Jesus,
Shield us from evil through your Word, salvation and prayer,
Guide us to abide by the truth as we spread the good news to one and all,
And lead the lost to You.
God we pray that you will continue to bless us,
To bless our lives and fill us with hope.
We ask you Lord to guide our footsteps and lead us to the way everlasting,
Through faith in you Lord we seek salvation and our place with you in Heaven
According to your ways, your everlasting wisdom and strength.
May your will be done, here on Earth and through the vast Universe,
May our hearts be filled with your everlasting love and grace.
Praises to You God, Amen!
This message was written by Daniel St.Pierre