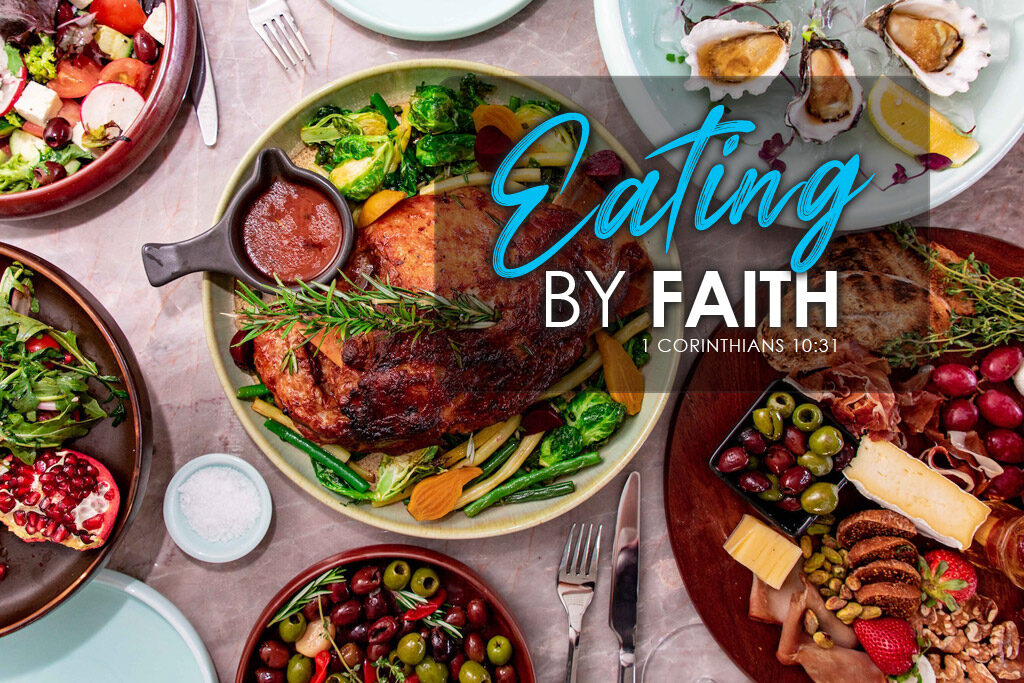 "31 Therefore, whether you eat or drink, or whatever you do, do all to the glory of God."

1 Corinthians 10:31
What does it mean to eat and drink for the glory of God?
If you think about it, it's actually a really simple concept.
Our bodies are temples given to God by God. The food we eat and beverages we drink become the fuel that powers our temples, so it makes perfect sense that if we use junk as fuel, we'll perform poorly.
On the flip side, imagine preparing and consuming nutrient rich foods that provide necessary building blocks for success…
That's not rocket science.
The bible features numerous verses written to act as a guideline for healthy eating habits. Though it is true the old and new testament greatly differ when describing which foods are acceptable for consumption, God's message is clear: We are to eat fresh, unprocessed foods.
Many of the heroes of faith, the Godly men of the Bible, were shepherds and herdsmen, e.g. Abel, Job, Abraham, Isaac, Jacob, Jacob's twelve sons, David, etc, and had very many livestock.
It is safe to say the chosen people of God must have eaten a fair amount of dairy products and meat.
God said He would give the covenant people, Israel, the promised land of Canaan, a land flowing with milk and honey. If milk is so bad, why would God have used it as an illustration of the abundance and blessedness of the promised land?
The fact is milk is to be a part of a biblical diet and dairy is acceptable to God.
What about fish?
Three of Jesus' closest disciples were fishermen by profession.
Then, there was the instance when Jesus miraculously fed bread and fish the multitude of thousands of men, women and children.
So, we can safely assume Jesus himself ate fish making it acceptable for us to eat.
What does science say about this?
Man possesses four canine teeth out of a total of thirty-two teeth. If man were to be a pure vegetarian, God would not have placed any canine teeth in us.
Four out of thirty-two is 12.5%. Hence, it may be argued that the inclusion of 10%-15% meat products to our diet is supported by our God-given physiology.
Although the strength of hydrochloric acid in man's stomach is much weaker than carnivorous animals, it nevertheless contains adequate amounts of hydrochloric acid to assist in the digestion of modest amounts of animal proteins.
Herbivores like cows, sheep and goats do not have hydrochloric acid in their stomachs.
So it's clear human beings are meant to have a balance diet of fruit, veggies, grains, dairy and yes, meat!
Want to bring glory to God through food and drink?
Eat and drink in moderation, and give praise to God for each sip, and for each bite…
Were you able to glean and grow from this message so God can be further glorified and His Kingdom magnified? If so, I would love to hear from you. Follow this link to get in touch… Let's pray!
Father God;
We thank you for your presence in our lives,
We praise you Lord for the wisdom bestowed upon Paul,
And we ask you Lord to help us find joy in your perfect plan.
Allow us to praise and love each other through faith in you Jesus,
Shield us from evil through your Word, salvation and prayer,
Guide us to abide by the truth as we spread the good news to one and all,
And lead the lost to You.
God we pray that you will continue to bless us,
To bless our lives and fill us with hope.
We ask you Lord to guide our footsteps and lead us to the way everlasting,
Through faith in you Lord we seek salvation and our place with you in Heaven
According to your ways, your everlasting wisdom and strength.
May your will be done, here on Earth and through the vast Universe,
May our hearts be filled with your everlasting love and grace.
Praises to You God, Amen!
This message was written by Daniel St.Pierre