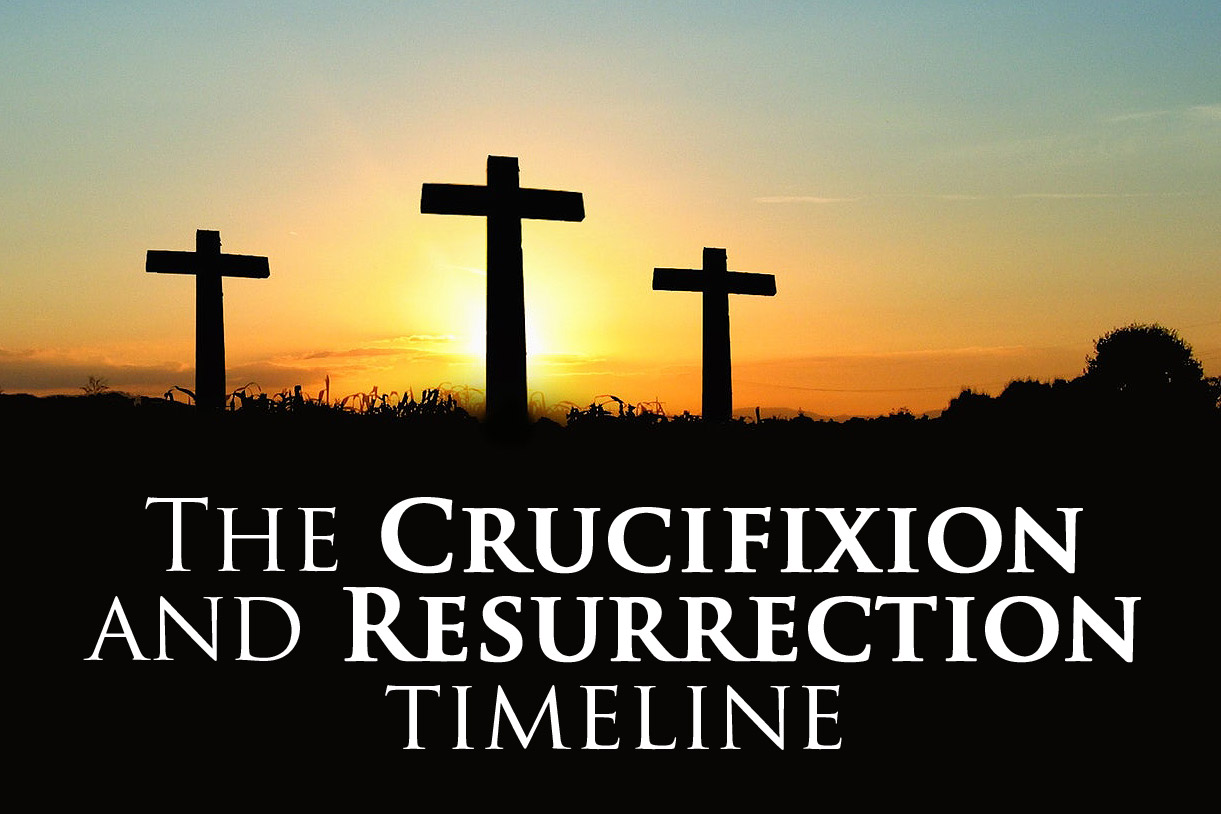 Today is Easter Sunday (for most), or Resurrection Day (for us) which is the day most Christians celebrate the resurrection of Jesus. Facing a controversy about the crucifixion and resurrection timeline, I thought I would share some biblical reference points to better help you testify to each occurrence that led to the crucifixion and resurrection of Jesus Christ.
Christ is arrested in the Garden of Gethsemane.
"And immediately, while He was still speaking, Judas, one of the twelve, with a great multitude with swords and clubs, came from the chief priests and the scribes and the elders.Now His betrayer had given them a signal, saying, "Whomever I kiss, He is the One; seize Him and lead Him away safely." As soon as he had come, immediately he went up to Him and said to Him, "Rabbi, Rabbi!" and kissed Him. Then they laid their hands on Him and took Him. And one of those who stood by drew his sword and struck the servant of the high priest, and cut off his ear. Then Jesus answered and said to them, "Have you come out, as against a robber, with swords and clubs to take Me? I was daily with you in the temple teaching, and you did not seize Me. But the Scriptures must be fulfilled." Then they all forsook Him and fled." (Mark 14:43-52)
Even though Pilate finds no fault in Jesus, Christ is put through painful beating, whipping, and mocking.
"So then Pilate took Jesus and scourged Him. And the soldiers twisted a crown of thorns and put it on His head, and they put on Him a purple robe. Then they said, "Hail, King of the Jews!" And they struck Him with their hands. Pilate then went out again, and said to them, "Behold, I am bringing Him out to you, that you may know that I find no fault in Him." (John 19:1-4)
On Friday around 9 a.m., the preparation day before the Sabbath, Jesus is crucified on Golgatha, which means the Place of the Skull.
"And they brought Him to the place Golgotha, which is translated, Place of a Skull. Then they gave Him wine mingled with myrrh to drink, but He did not take it. And when they crucified Him, they divided His garments, casting lots for them to determine what every man should take. Now it was the third hour, and they crucified Him." (Mark 15:22-25)
The sky turns dark for three hours in the middle of the day, from noon until 3pm.
"Now when the sixth hour had come, there was darkness over the whole land until the ninth hour." (Mark 15:33)
Jesus dies on the cross.
"And when Jesus had cried out with a loud voice, He said, "Father, into Your hands I commit My spirit." Having said this, He breathed His last." (Luke 23:46).
Christ is buried by Joseph in a tomb on Friday evening, the day before the Sabbath. This was the first day.
"Now when evening had come, because it was the Preparation Day, that is, the day before the Sabbath, Joseph of Arimathea, a prominent council member, who was himself waiting for the kingdom of God, coming and taking courage, went in to Pilate and asked for the body of Jesus. Pilate marveled that He was already dead; and summoning the centurion, he asked him if He had been dead for some time. So when he found out from the centurion, he granted the body to Joseph. Then he bought fine linen, took Him down, and wrapped Him in the linen. And he laid Him in a tomb which had been hewn out of the rock, and rolled a stone against the door of the tomb. And Mary Magdalene and Mary the mother of Joses observed where He was laid." (Mark 15:42-47)
The second day of Jesus' death was the Sabbath, a day when people rested and mourned the death of their King.
On the third day, Sunday, the first day of the Jewish week, Mary Magdalene discovers the empty tomb.
"Now the first day of the week Mary Magdalene went to the tomb early, while it was still dark, and saw that the stone had been taken away from the tomb. Then she ran and came to Simon Peter, and to the other disciple, whom Jesus loved, and said to them, "They have taken away the Lord out of the tomb, and we do not know where they have laid Him." Peter therefore went out, and the other disciple, and were going to the tomb. So they both ran together, and the other disciple outran Peter and came to the tomb first. And he, stooping down and looking in, saw the linen cloths lying there; yet he did not go in. Then Simon Peter came, following him, and went into the tomb; and he saw the linen cloths lying there, and the handkerchief that had been around His head, not lying with the linen cloths, but folded together in a place by itself. Then the other disciple, who came to the tomb first, went in also; and he saw and believed. For as yet they did not know the Scripture, that He must rise again from the dead. Then the disciples went away again to their own homes." (John 20:1-10)
Jesus rises from the dead and appears to His disciples on Sunday, the first day of the Jewish week.
"Then, the same day at evening, being the first day of the week, when the doors were shut where the disciples were assembled, for fear of the Jews, Jesus came and stood in the midst, and said to them, "Peace be with you." When He had said this, He showed them His hands and His side. Then the disciples were glad when they saw the Lord. So Jesus said to them again, "Peace to you! As the Father has sent Me, I also send you." And when He had said this, He breathed on them, and said to them, "Receive the Holy Spirit. If you forgive the sins of any, they are forgiven them; if you retain the sins of any, they are retained." (John 20:19-23)
According to scripture, Jesus died on a Friday, rose and appeared to His disciples on Sunday. He said He would rise on the third day and He did. Prophesy was fulfilled and will continue to be fulfilled. As we await His return, let us remember this prophecy:
"Now, brothers, about times and dates we do not need to write to you, for you know very well that the day of the Lord will come like a thief in the night. While people are saying, "Peace and safety," destruction will come on them suddenly, as labor pains on a pregnant woman, and they will not escape." (1 Thessalonians 5:1-3)
Therefore the focus of our lives must be to concentrate on preparing for His return rather than waste valuable time estimating the exact time of the second coming of the Lord.
Here are a few important questions we must ask ourselves as believers. Are we ready to face Jesus? Have we trusted Him as your Lord and Savior? Have we faith driven works to show for? Is our life symbolic of the life of Jesus Christ? If so, praise God! Otherwise we are called to take a critical step toward fulfilling our mission by calling on this ministry or, by reaching out to your local church for help how to get plugged in to serving God. Let's pray!
Father God;
We praise you for your Grace
And for your blessings in our lives,
For your guidance and your patience
And for your ever present love.
God we pray that you will continue to look after us
And provide for us all we need in this life,
We pray that you will inspire us to offer you our very best,
As we willingly sacrifice ourselves to you each day.
Lord we anxiously await your return
And look forward to eternity spent with you in heaven,
And ask you to shine your light bright upon us in this life
So we never succumb to the tribulation's suffering.
Thank you Lord father for all that surrounds us!
Praise God,
Amen!
This message was written by Daniel St.Pierre
Email: DanielStPierre@ThriveThroughChrist.com