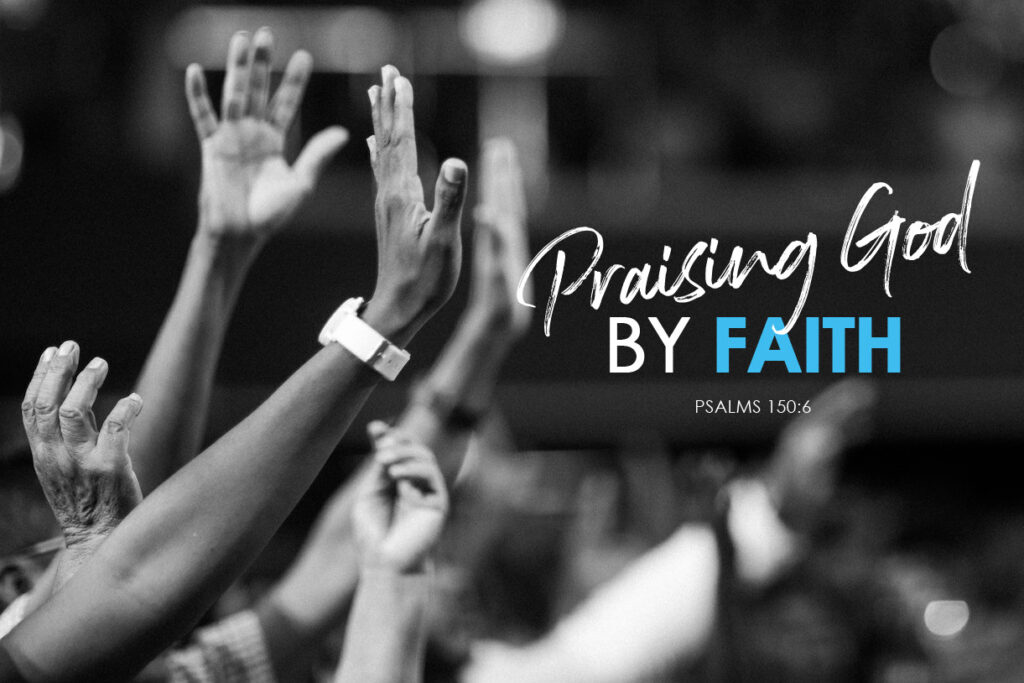 "6 Let everything that has breath praise the Lord. Praise the Lord!"

Psalm 150:6
Hallelujah!
This song could not be more simple. It doesn't contain an argument, or much teaching. It does not features any explanation or justification.
This psalm is just a passionate cry for all creation to give God the praise due to the mighty Creator.
Praising God does indeed involve singing, proclaiming out loud and confessing of God's love, grace and mercy.
In plain English, giving praise to the Lord means to be thankful for His blessings, and doing so in ways that honor and please the One who created us for His glory.
In this psalm, David calls on all living creatures to voice our gratitude to the divine Creator, and do so in praise and worship, in songs.

"2 Serve the Lord with gladness;
Come before His presence with singing. "

Psalm 100:2
We should praise God because He is the One who gave us breath, who gave us life.
For some of us, we praise God as a Father. For others, He's a Deliverer, a Savior.
For most if not all believers, the Lord is our hope…
But, even though that's quite a lot, worship for God it stops there.
We hope to have more time for church, but we don't make time.
We hope to sing praise at church before the sermon or mass, but we get there late.
We hope to learn the songs one day, but we listen to other songs during the week.
We hope the Holy Spirit will convict us to sing and give praise to God, one day, but it's us who choose not to worship on Sundays, on Mondays, Tuesdays, Wednesdays…
And this was also common in the days of David, hence the need for the song, the psalm, the call to action.
PRAISE THE LORD!
To Him the glory, and honor, and for Him will come all my blessings, with each breath, through every word.
Let me ask you a simple question…
Do you praise God with each breath?
If your answer is yes, I'd love to have a conversation with you about that…
If you are humble enough to admit you fall short of praising God with each breath, perhaps you're ready to do something about it?
It starts with the Word. Begin each day in God's song book, and enrich your soul with songs of worship, the Book of Psalms.
Open your Bible, or Bible App, and start reading one of David's songs each morning before you jump out of bed.
Next, tune in to worship stations or stream your favorite faith inspired albums so you keep God in focus, and fuel your desire to praise Him with each breath…
Were you able to glean and grow from this message so God can be further glorified and His Kingdom magnified? If so, I would love to hear from you. Follow this link to get in touch… Let's pray!
Father God;
We thank you for your presence in our lives,
We praise you Lord for the wisdom bestowed upon David,
And we ask you Lord to help us find joy in your perfect plan.
Allow us to praise and love each other through faith in you Jesus,
Shield us from evil through your Word, salvation and prayer,
Guide us to abide by the truth as we spread the good news to one and all,
And lead the lost to You.
God we pray that you will continue to bless us,
To bless our lives and fill us with hope.
We ask you Lord to guide our footsteps and lead us to the way everlasting,
Through faith in you Lord we seek salvation and our place with you in Heaven
According to your ways, your everlasting wisdom and strength.
May your will be done, here on Earth and through the vast Universe,
May our hearts be filled with your everlasting love and grace.
Praises to You God, Amen!
This message was written by Daniel St.Pierre