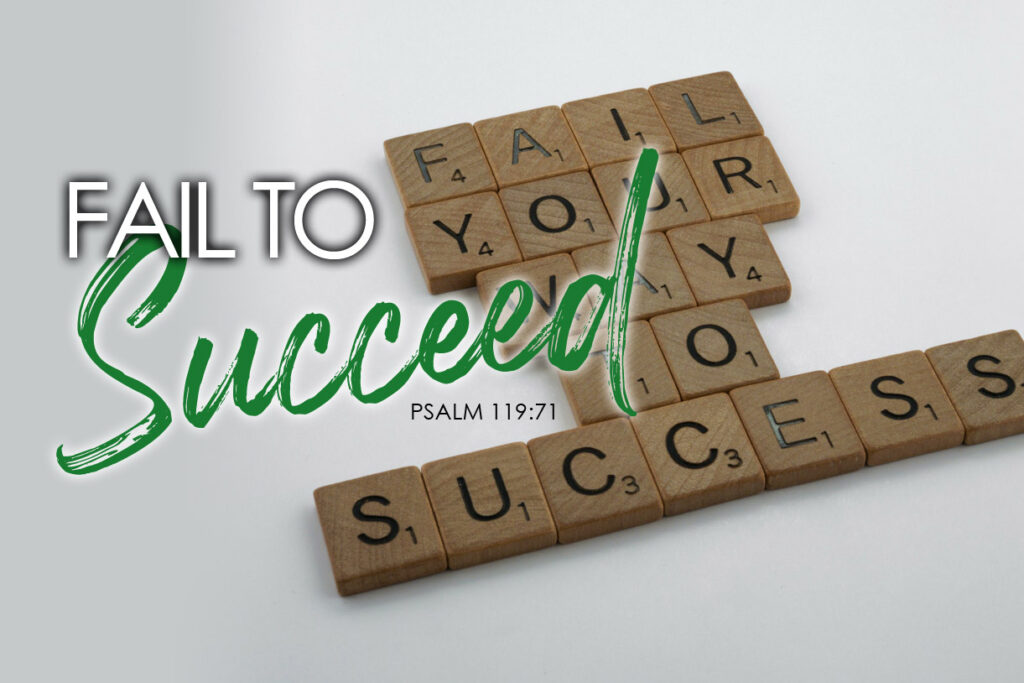 "71It is good for me that I have been afflicted,
That I may learn Your statutes."

Psalm 119:71
Fact is, every single person who has ever lived at least a few years on planet earth has, or will fail at some point in life.
Failure is part of every day life.
Failing in itself is not good. It's symbolic with losing because it's the opposite of success, of winning.
I think of failure is a learning experiences, as opportunities to improve, to do better the next time around.
The Word is filled with chosen prophets and leaders who failed at some point, but they learned from their mistakes, kept on moving forward and they were redeemed, just as we are.
Farmers plant seeds, and many of them never come to harvest, many of the efforts of farmers result in failure. It is their determination, in spite of their failures, which leads them to success.
Thomas Edison was a failure, until he turned on the light.
Walt Disney was fired from the Kansas City Star because his editor felt he "lacked imagination."
Michael Jordan missed 3 times more shots than he made, on a good day.
Shaquille O'Neal still can't hit a free throw.
It is determination, and failure which leads to success.
Likewise, it is devoted, sacrificial service which leads to glory and honor to God.
The good news is, God will never forsaken us….

"9 Persecuted, but not forsaken; struck down, but not destroyed "

2 Corinthians 4:9
God strikes us down so we can be built up, according to His ways, His will.
So, from this day on, look at failure as a vehicle toward success… 🙂
Were you able to glean and grow from this message so God can be further glorified and His Kingdom magnified? If so, I would love to hear from you. Follow this link to get in touch… Let's pray!
Father God;
We thank you for your presence in our lives,
We praise you Lord for the wisdom found through David,
And we ask you Lord to help us find joy in your perfect plan.
Allow us to praise and love each other through faith in you Jesus,
Shield us from evil through your Word, salvation and prayer,
Guide us to abide by the truth as we spread the good news to one and all,
And lead the lost to You.
God we pray that you will continue to bless us,
To bless our lives and fill us with hope.
We ask you Lord to guide our footsteps and lead us to the way everlasting,
Through faith in you Lord we seek salvation and our place with you in Heaven
According to your ways, your everlasting wisdom and strength.
May your will be done, here on Earth and through the vast Universe,
May our hearts be filled with your everlasting love and grace.
Praises to You God, Amen!
This message was written by Daniel St.Pierre