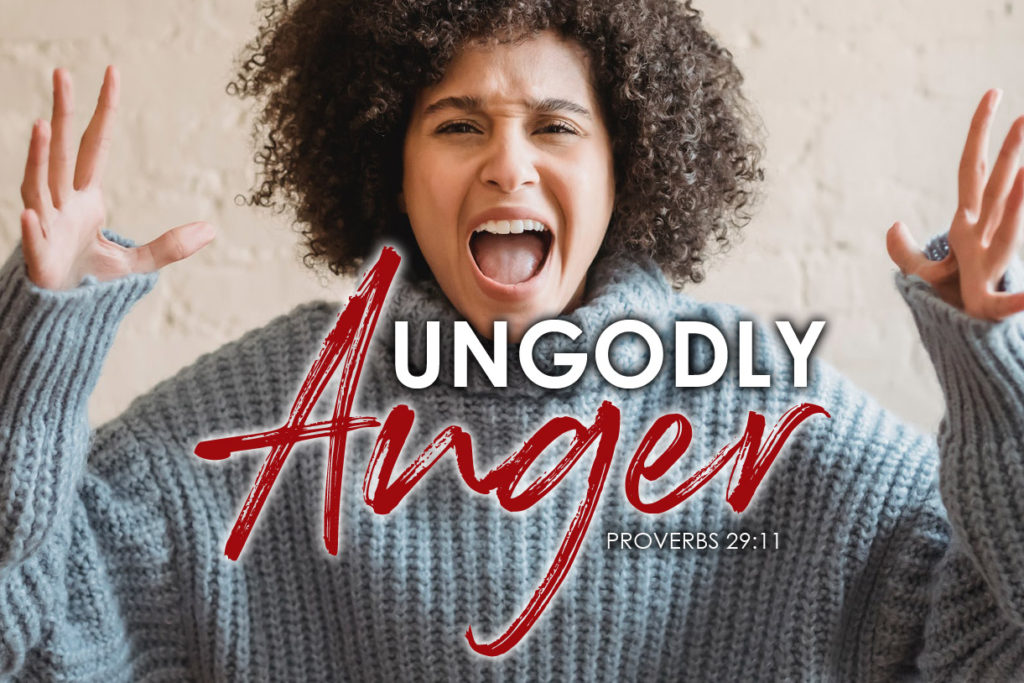 "11 Fools give full vent to their rage, but the wise bring calm in the end."

Proverbs 11
It's no secret that the worldwide pandemic has greatly contributed to the stress level we all experience today.
Fact is, everyone has had moments of anger in their lives, and the amount of anger depends on various factors, notably the situation that causes anger.
The problem with anger is, it's an emotion that's too easily mismanaged and lashing out with harsh words or through physical behavior causes pain and in many cases, irreparable harm.
Anger in itself is not bad…
Righteous anger does exist! That's the type of godly anger that arises when we witness injustice or an offense against God. Righteous anger is the kind of anger that cares about other people, or other beings.
It's important to remember that righteous anger should always attack the sin, not the sinner.
Then, there's ungodly anger, when someone is shouting, yelling and even throwing or breaking things as they explode uncontrollably.
However, we too often forget about the more subtle forms of anger, when people are perpetually angry.
Individuals who struggle with perpetual anger don't acknowledge or identify their feelings as destructive, rather they accept their anger as a facet of their lives and learn to live with it.
Because of this, perpetual anger is internalized and it manifests itself in different, more subtle ways that are equally or even more harmful than outbursts.
This is precisely why, as disciples of the risen Savior, we must be accountable for our actions when anger is involved.
How do I know if I'm carrying perpetual angry toward someone?
For starters, your therapist or counselor can help you find out if you're harboring anger toward someone.
Not in therapy or counseling?
As believers, we can find out quite a lot about ourselves through fellowship and accountability partners. We can also go to Christ in prayer, and ask Him to open our hearts and strengthen us so that we can forgive those who trespassed against us, or sinned against God.
Counseling, fellowship and accountability are all key elements we should strive to include in our Christian walk.

"19 My dear brothers and sisters, take note of this: Everyone should be quick to listen, slow to speak and slow to become angry, 20 because human anger does not produce the righteousness that God desires."

James 1:19-20
The Solution: The Bible
Instead of lashing out with harsh words and actions, which is the way of the enemy, we can shift our focus toward God's Word for guidance.
Yes, the Bible is full of advice on dealing with anger…

"26 In your anger do not sin: Do not let the sun go down while you are still angry."

Proverbs 11
A huge issue with anger is, when it's not handled in a healthy way, it often results in sinful actions and behavior as the severity of negative emotions interfere with relationships.
And, when anger gets in the way of relationships, it's time to seek a godly, healthy restoration plan to keep your reactions in check because let's face it, life has a way to throw things at us that will make us angry – no matter who we are!
I invite you to reach out to your local fellowship, and invest time each day toward forgiveness and reconciliation.
God desires for His children to get along, work together and bring Him glory with our lives. Ungodly anger prevents us from having a healthy relationship with the Lord, and with other believers.
Were you able to glean and grow from this message so God can be further glorified and His Kingdom magnified? If so, I would love to hear from you. Follow this link to get in touch… Let's pray!
Father God;
We thank you for your presence in our lives,
We praise you Lord for the wisdom found through the Word,
And we ask you Lord to help us find joy in your perfect plan.
Allow us to praise and love each other through faith in you Jesus,
Shield us from evil through your Word, salvation and prayer,
Guide us to abide by the truth as we spread the good news to one and all,
And lead the lost to You.
God we pray that you will continue to bless us,
To bless our lives and fill us with hope.
We ask you Lord to guide our footsteps and lead us to the way everlasting,
Through faith in you Lord we seek salvation and our place with you in Heaven
According to your ways, your everlasting wisdom and strength.
May your will be done, here on Earth and through the vast Universe,
May our hearts be filled with your everlasting love and grace.
Praises to You God, Amen!
This message was written by Daniel St.Pierre