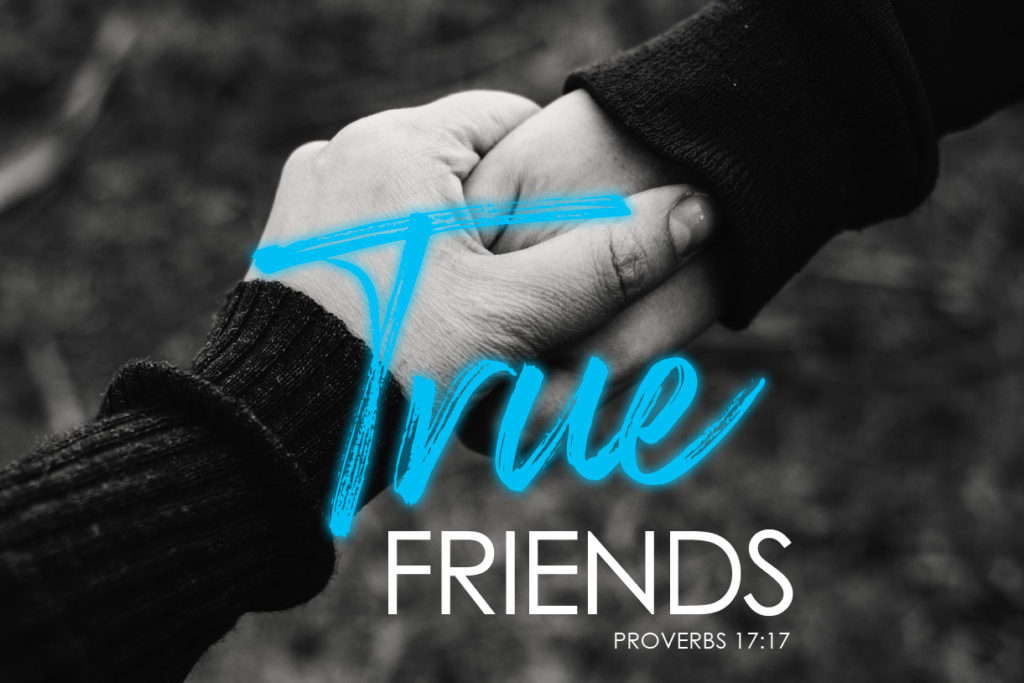 "A friend loves at all times,
And a brother is born for adversity."

Proverbs 17:17
I just had my 55th birthday.
This year, like many before, other than cards, gifts and tons of love from my wife and daughters, I received a birthday card & gift from my beloved mother in law, Phyllis, and I also got birthday wishes from friends, my sister, aunt Andrée and my dad.
And, like every year since I met him, my friend Stephan sent love and wishes.
It is his friendship that's at the root of this study.
In Proverbs, God teaches us biblical wisdom and raises questions of values, moral behavior, and right conduct.
Proverbs' theological foundation is that "the fear of God is the beginning of wisdom."
In Proverbs 17:17, God teaches us the meaning of a true friend.
A true friend loves at all times.
This is true of my friend Stephan who doesn't always understand me nor does he always agree with me, as a matter of fact, as we grow older, we seem to disagree on more things than we actually agree on!
He's a Liberal Democrat, I'm Conservative. He's got no kids, and doesn't want any while I have 4 daughters. He loves puzzles; I can't stand them! He likes little barking toy dogs, I hear they taste just like chicken… 😛
In spite of our disagreements, my friend Stephan has been a pillar of support in my life. Back in 2013, he went as far as lending me $60,000 so I could buy our Florida homestead.
I'm glad to report I'm more than halfway through my 15 year mortgage, and Stephan is still a true friend. 🙂
We've worked on cars together, repaired his house and mine, gone racing together, fished, boated, played more Tennis and Beach Volleyball matches than I can possibly count, traveled to Europe a couple times, and drove from Montreal, Canada to Tampa, FL in a Saab 900 Turbo in 21 hours flat.
Our friendship began back in March 1991, when we both started working as food servers at EPCOT restaurants.
We've been friends for over 30 years…
I'm sure you can appreciate how close Stephan and I are, and even though there's little chance you have such a wealthy, generous friend in your life, you do have countless opportunities to be "Stephan" to others.
You see, friendship requires at the very least, two people.
Perhaps you're not as wealthy as my friend, but he wasn't always a rich man. There was a time when he was a University student and I was the one with money to burn. We did some pretty crazy stuff like indoor skydiving, parasailing, water skiing, I even gave him a Saab 900 Turbo which he drove to school for a while if I recall.
So God's message in Proverbs 17:17 is clear. True friends are there for each other. You can be a true friend to one or many people.
The only prerequisite is, you have to be ready to love them all the time.
And, if you paid close attention to the proverb above, God also mentioned kin.
And To God, our brothers and sisters are not our friends.
Friendship is a choice, a relationship that requires sacrifice while kin is not anyone's choice, and requires no effort whatsoever.
Can siblings be friends? Yes, of course. If both choose to invest in a relationship beyond their youth, and nurture this relationship than when better friend can anyone have other than someone they've known their entire lives
The key is love. God's love.
Pour out His love, grace and mercy onto others as we hope they will do the same for us. And keep it going…
And before you know it, someone will be writing an inspirational message like this one, about YOU!
To him who has an ear, let him hear.
Were able to glean and grow from this message so God can be further glorified and His Kingdom magnified? If so, I would love to hear from you. Follow this link to get in touch… Let's pray!
Father God;
We thank you for your presence in our lives,
We praise you Lord for the wisdom found through Proverbs,
And we ask you Lord to help us find joy in your perfect plan.
Allow us to praise and love each other through faith in you Jesus,
Shield us from evil through your Word, salvation and prayer,
Guide us to abide by the truth as we spread the good news to one and all,
And lead the lost to You.
God we pray that you will continue to bless us,
To bless our lives and fill us with hope.
We ask you Lord to guide our footsteps and lead us to the way everlasting,
Through faith in you Lord we seek salvation and our place with you in Heaven
According to your ways, your everlasting wisdom and strength.
May your will be done, here on Earth and through the vast Universe,
May our hearts be filled with your everlasting love and grace.
Praises to You God, Amen!
This message was written by Daniel St.Pierre