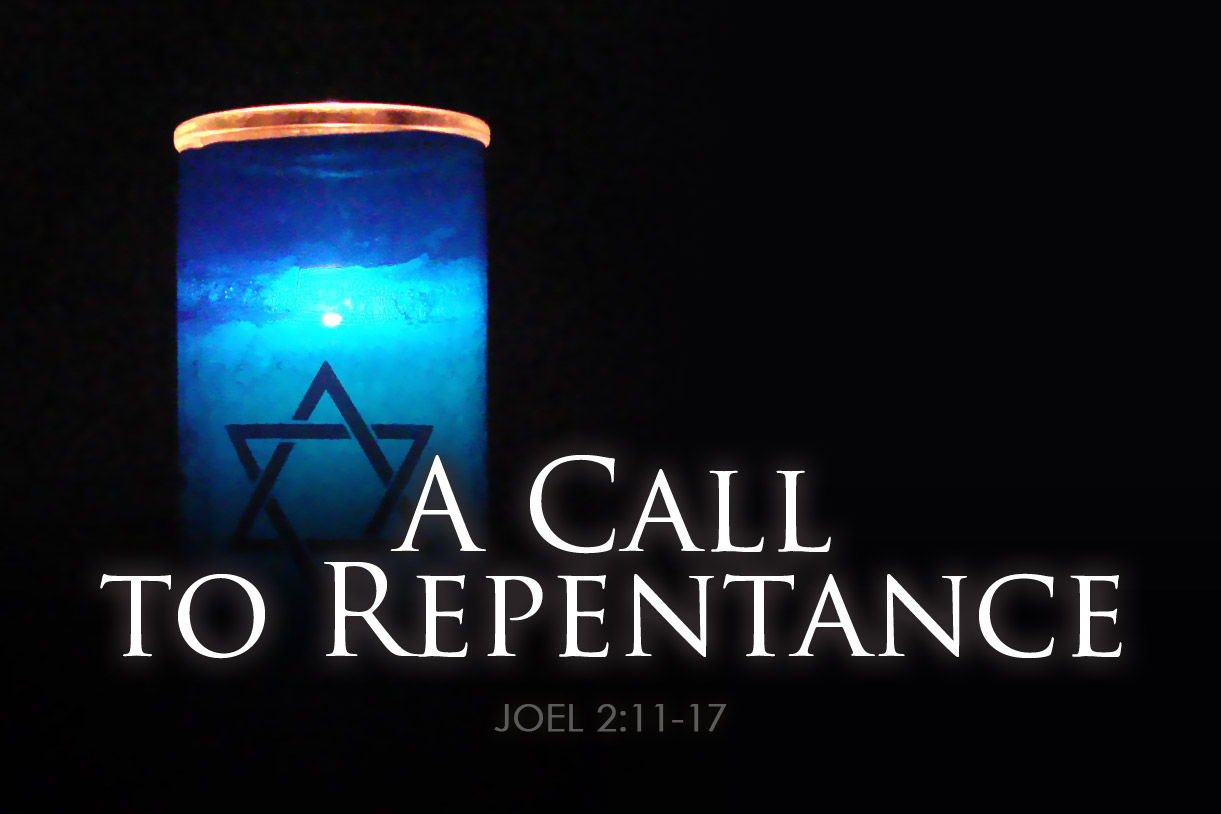 After the prophet warned the Hebrew nation of the coming invasion and the Day of the Lord, he then reveals how repentance can still lead to redemption.
"12 'Now, therefore,' says the Lord, 'Turn to Me with all your heart, With fasting, with weeping, and with mourning."
Joel calls on Jews to turn to God, repent of their sins and worship God through fasting, the rite used to express renewed devoutness to the Lord, by weeping and mourning as a testimony they were ready to turn back to God and obey His ways.
"13 So rend your heart, and not your garments; Return to the Lord your God, For He is gracious and merciful, Slow to anger, and of great kindness; And He relents from doing harm."
Next, the prophet exhorts the Jews to not only tear their garments, showing their grief for transgressing the Lord, but also cleans their hearts and empty their sols of all unrighteousness so each one can be made new by their faith and desire to serve and honor God, the One who readily pours out grace and mercy upon those who place their trust in Him.
"14 Who knows if He will turn and relent, And leave a blessing behind Him— A grain offering and a drink offering For the Lord your God?"
Joel continues his exhortation of the Hebrews by reminding them how sacrifice is rewarded, and that each one should invest in His kingdom through our works, and by praising God in spite of what's going on in day to day life.
"15 Blow the trumpet in Zion, Consecrate a fast, Call a sacred assembly;"
Blowing a trumpet would cause the nation to gather, and by calling a fast, Jewish leaders would invite the Jews to repent of their sins and call on God's forgiveness, beg Him for His grace and outpouring of mercy upon Judah.
"16 Gather the people, Sanctify the congregation, Assemble the elders, Gather the children and nursing babes; Let the bridegroom go out from his chamber, And the bride from her dressing room."
The need for repentance was so great, all Jews would be required to answer the call to gather and turn back to God, worship Him and abide by His word. From newborn babies to seniors, all should come, fast and grieve for their individual and collective future was at hand.
"17 Let the priests, who minister to the Lord, Weep between the porch and the altar; Let them say, "Spare Your people, O Lord, And do not give Your heritage to reproach, That the nations should rule over them. Why should they say among the peoples, 'Where is their God?'"
Lastly, Joel calls on Jewish leaders to pray to God for mercy, and ask Him to spare the Hebrew nation so His people can thrive and fulfill their mission. Each one a sinner, like them all believers should repent of our sins and fervently pray to the Lord for forgiveness, mercy and grace… Let's pray!
Father God;
We thank you for your blessings in our lives,
We praise you Lord for the wisdom found through the book of Joel,
We ask you Lord to inspire us to use the prophet's writings in our lives
As we continue to learn more about you through your word.
Lord we ask you to strengthen us each day as we endure through battles,
Allow us to praise and love each other through faith in you Jesus,
Shield us from evil through truth, the gospel, salvation and prayer,
Guide us to abide by your word as we spread your gospel to one and all
Becoming examples of faith through our character as we walk the narrow path.
God we pray that you will continue to bless us, to bless our lives and fill us with hope
We ask you Lord to guide our footsteps and lead us to the way everlasting,
Through faith in you Lord we seek salvation and a place with you in heaven
According to your ways, your everlasting wisdom and strength.
May your will be done
In our lives, for your life.
We thank you for your love and all you bless us with each day.
Praise God,
Amen!
This message was written by Daniel St.Pierre
Email: danielstpierre@thrivethroughchrist.com