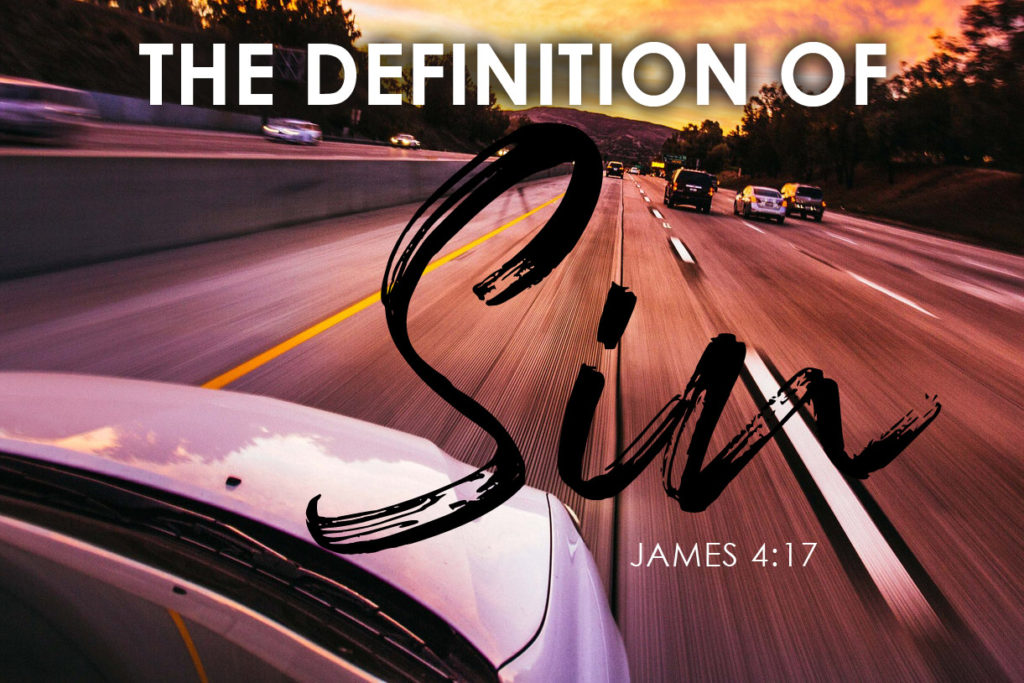 " 17 Therefore, to him who knows to do good and does not do it, to him it is sin."

James 4:17
This ministry is under attack by the enemy.
The battle is not new, but the soldiers among Satan's army are multiplying and it's become more difficult than ever for us to advance the gospel online.
The good news is, our ministry is expanding in areas outside the reach of search engines and social media platforms, and God is blessing our endeavors – thus far!
And it's fitting that it's my own sin that led me to further define sin itself.
In the apostle James' letter, he simply defined sin as a choice to do something we believe is wrong.
Like speeding, or driving over the speed limit.
I have a heavy foot and until recently, the vehicles I drove were not really speedsters. So, speeding has not been a part of my life in over a decade.
This was until I borrowed my friend's "track ready" BMW 540i with a 4.6L v8 engine and 6 speed manual transmission.
With more temptation in my life, I found myself failing God and going back to my old ways. By His grace, the Bimmer is back at my buddy's place and I'll be driving our mini van or truck from now on… 🙂
And so should you!
Let's face it, only Jesus can resist constant temptation. If you're like me, when I'm behind the wheel of a super car on a public road, and you find yourself in a constant battle against the enemy, pluck the sin out!
In Mathew's Gospel, God's Word teaches us that…
"9 And if your eye causes you to sin, pluck it out and cast it from you. It is better for you to enter into life with one eye, rather than having two eyes, to be cast into hell fire."

Matthew 18:9
Here, God tells us to eliminate the sin in our lives.
I've had this conversation with more men and women than I can count. It's a face that in some instances, when sin shows its ugly face in an overwhelming way, we are called to turn away, run and kick dust from our feet.
If your workplace is toxic and leading you to sin, cut it out and get another job where God is glorified and Jesus' name magnified.
If your friends are causing you to sin, cut them out and make new friends within the body if Christ.
If your phone is the source of your transgressions, turn it off after 6pm and turn it back on after breakfast. Just spend time away from your phone, and more time with Jesus and His servants.
Ultimately, the choice to either do right or wrong is ours. After all, sin is a choice… 🙁
The good news is, God is here for us and He is ready to empower us or guide us away from sin when we are tempted.
Go to Him in prayer and He will strengthen you!
To him who has an ear, let him hear.
Were able to glean and grow from this message so God can be further glorified and His Kingdom magnified? If so, I would love to hear from you. Follow this link to get in touch… Let's pray!
Father God;
We thank you for your presence in our lives,
We praise you Lord for the wisdom found through James' letter,
And we ask you Lord to help us find joy in your perfect plan.
Allow us to praise and love each other through faith in you Jesus,
Shield us from evil through your Word, salvation and prayer,
Guide us to abide by the truth as we spread the good news to one and all,
And lead the lost to You.
God we pray that you will continue to bless us,
To bless our lives and fill us with hope.
We ask you Lord to guide our footsteps and lead us to the way everlasting,
Through faith in you Lord we seek salvation and our place with you in Heaven
According to your ways, your everlasting wisdom and strength.
May your will be done, here on Earth and through the vast Universe,
May our hearts be filled with your everlasting love and grace.
Praises to You God, Amen!
This message was written by Daniel St.Pierre