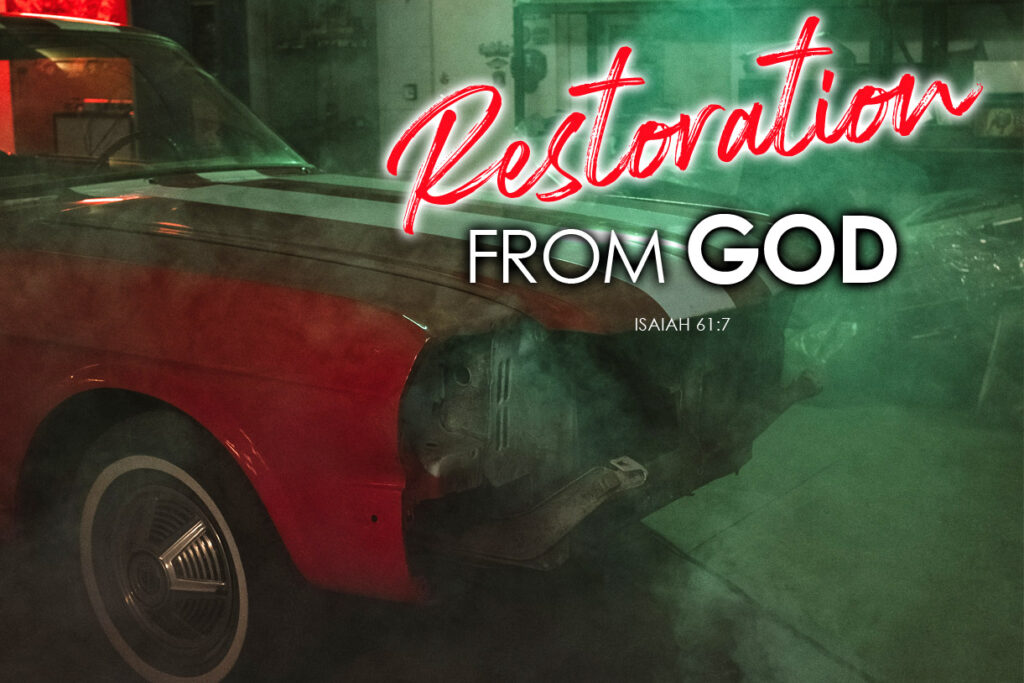 "7 Instead of your shame you shall have double honor,
And instead of confusion they shall rejoice in their portion.
Therefore in their land they shall possess double;
Everlasting joy shall be theirs. "

Isaiah 61:7
God loves us and He longs for us to have a relationship with him.
But, human beings are creatures of habit. We too often give in to our desires and trespass or "sin" against God.
And just like children who choose to do wrong, we feel shame when we turn back to our heavenly Father.
The good news is, when we repent of our sins, God restores us, forgives us and blesses us according to His will.
In His word, God uses restoration to heal us and repair our relationship with Him.
Many among us will stray from steadfast faith and obedience, and before we can humble ourselves and repent of our sin, there are numerous Bible verses about restoration we can use for inspiration, and for healing.

"12 Restore to me the joy of Your salvation,
And uphold me by Your generous Spirit. "

Psalm 51:12
Restoration is a recurring theme in God's word, because those who strayed from His ways sought to restore their divine relationship with Him.
Overflowing with grace and mercy, God healed relationships that had decayed then blessed those who repented, in their personal relationships, their wealth and their health.
And, He is ready to do the same for you.
Step 1: Make a List
Start by making a list of the things you want restored in your life.
Identify the things or areas of your life you want back that have been taken from you in one way or another.
Obviously, these things need restoration because they are keeping you from God, preventing you from fulfilling your mission and keeping you from thriving through Christ.
Step 2: Ask God!
Next, once you have a list of things you want restored, ask God for restoration!
Simply tell Him, "Restore me God! I ask in your holy name to restore my friendships, my finances, my family, my marriage, restore the car I had to sell, restore my reputation, restore the years I lost to illness. Restore me Father!"
Restoration begins the moment you ask God.
Step 3: Begin The Restoration Process
Restoration involves change, a reversal of something bad.
An automotive restoration expert takes a 50 year old, rusted antique car that barely runs, and piece by piece, he restores the car to its original state.
And, because the new parts are safer, stronger and more durable than original parts, the resulting car is better than it was when it rolled off the showroom floor.
God will do the same in your life, one piece at a time.
By His grace and mercy, God will keep us safe while He makes us stronger.
He equips and empowers us. He makes us better.
Restoration awaits! Continue to honor God with your life knowing that He will restore you if you seek Him…
Were you able to glean and grow from this message so God can be further glorified and His Kingdom magnified? If so, I would love to hear from you. Follow this link to get in touch… Let's pray!
Father God;
We thank you for your presence in our lives,
We praise you Lord for the wisdom found through Isaiah,
And we ask you Lord to help us find joy in your perfect plan.
Allow us to praise and love each other through faith in you Jesus,
Shield us from evil through your Word, salvation and prayer,
Guide us to abide by the truth as we spread the good news to one and all,
And lead the lost to You.
God we pray that you will continue to bless us,
To bless our lives and fill us with hope.
We ask you Lord to guide our footsteps and lead us to the way everlasting,
Through faith in you Lord we seek salvation and our place with you in Heaven
According to your ways, your everlasting wisdom and strength.
May your will be done, here on Earth and through the vast Universe,
May our hearts be filled with your everlasting love and grace.
Praises to You God, Amen!
This message was written by Daniel St.Pierre