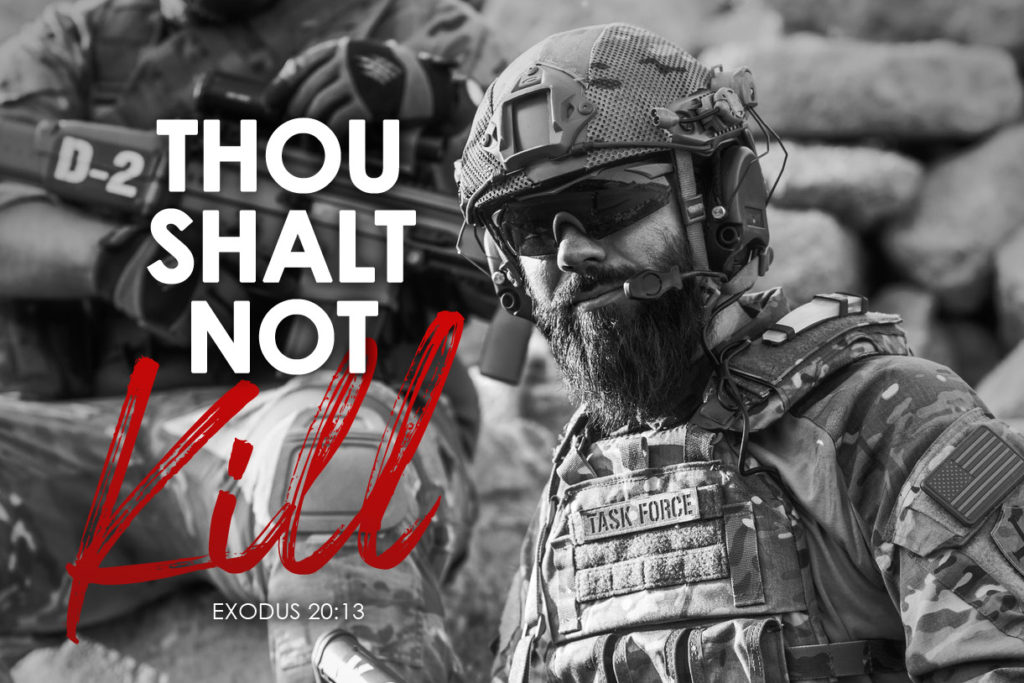 13 "Thou Shalt Not Kill."

Exodus 20:13
It's no secret, I'm a huge fan of the military and I'm immenselly grateful for the heroes who serve in all branches, throughout all nations.
So when I was asked why it was OK for soldiers to kill other human beings we consider "bad guys" when God commmands us otherwise.
The answer to that age old question is rather simple: The commandment refers to murder, not klling self-defense.
God commands us to love each other as He loves us. He also expects us to obey His other commands including "do not steal, lie, commit adultery, lust after things or people and of course, we are to have no other god before Him."
God also commands us not to murder.
The slim difference between murdering and killing someone can be found in the intent of the killer.
If the intent is to harm an innocent person or other undeserving living creature, then that is a sin.
On the flip side, if a person or creature kills another in self-defense, trying to protect themselves perhaps through instictive self-preservation, or obeys an order, that is not a sin. Rather it is one's duty to protect the weak from the enemy, including ourselves when we are under attack.
I just had a very difficult week at home after Satan manifested himself in my father in law, who turned viscious once again and lashed out on my family, my four girls and my wife Elizabeth, his own daughter.
When considering calling the police, to keep him from sending nasty text messages and emails to my wife and kids, I fast forwarded a few weeks, months and years and pondered how far Terry and his wife would go to "get" our daughters.
Although he lives in Ohio, Terry has a history of showing up to our sporting events or even our church services in Florida completely unannounced.
His wife Sue has already revealed the desire of her heart to do whatever she could to "buy daughters," after God never blessed her with sisters or daughters of her own.
Should we be concerned these people may pose a safety risk for our family seeing how much pain & suffering they have already caused us?
At the St.Pierre's, we trust God and we know His plan is perfect.
Also, I know Karate. 🙂
When He spoke through Moses, God's message was clear then just as it is today: Life belongs to God and only He can take it away.
God also manifests His will through our leaders and our laws, our military, police and other gun carrying law abiding public and private servants.
Killing without reason is murder, and murder is a sin.
To him who has an ear, let him hear.
Were able to glean and grow from this message so God can be further glorified and His Kingdom magnified? If so, I would love to hear from you. Follow this link to get in touch… Let's pray!
Father God;
We thank you for your presence in our lives,
We praise you Lord for the wisdom found through the penship of Moses,
And we ask you Lord to help us find joy in your perfect plan.
Allow us to praise and love each other through faith in you Jesus,
Shield us from evil through your Word, salvation and prayer,
Guide us to abide by the truth as we spread the good news to one and all,
And lead the lost to You.
God we pray that you will continue to bless us,
To bless our lives and fill us with hope.
We ask you Lord to guide our footsteps and lead us to the way everlasting,
Through faith in you Lord we seek salvation and our place with you in Heaven
According to your ways, your everlasting wisdom and strength.
May your will be done, here on Earth and through the vast Universe,
May our hearts be filled with your everlasting love and grace.
Praises to You God, Amen!
This message was written by Daniel St.Pierre