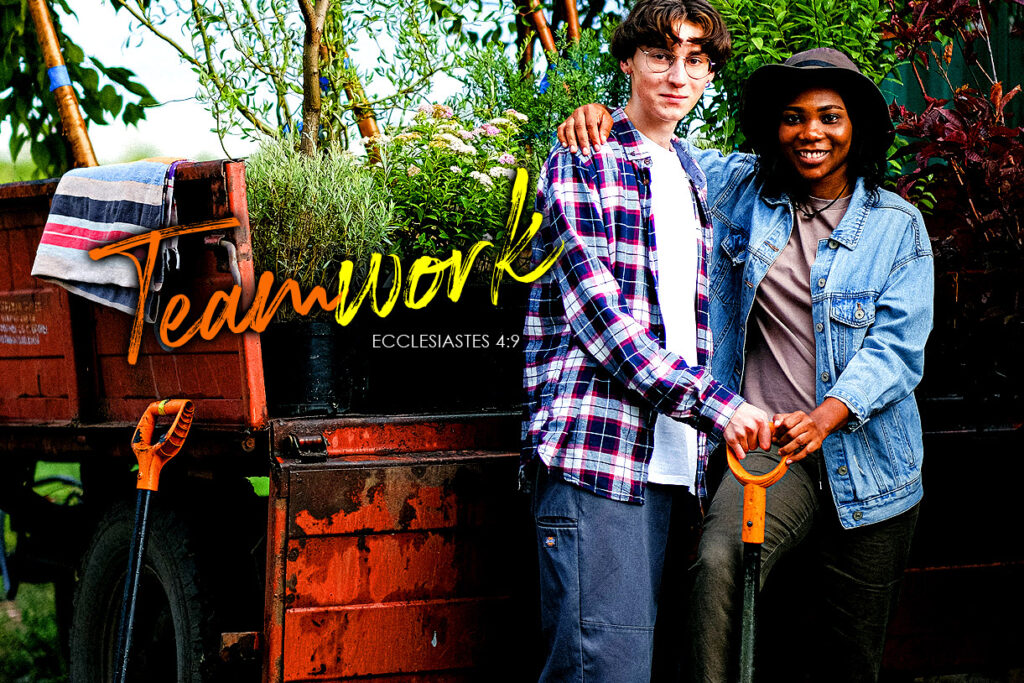 "9 Two are better than one,
Because they have a good reward for their labor."

Ecclesiastes 4:9
We've heard the saying, "Two heads are better than one." And while the word teamwork is not actually found anywhere in the Bible, God's intent for mankind is clear from the get go: He does not want us to work alone.
First, God created Adam, then his partner Eve. They were both created to complement each other, to support one another.
And there, in the Garden of Eden began teamwork, the basis of marriages, families, communities and businesses.
Two Are Better Than One
Having a helper is a no brainer. How many times have you found yourself in need of an extra hand? Or, wished you had someone around who knew how to do something you don't?
Just as Adam could not thrive on his own, we are called to first seek teammates before we endeavor to fulfill our purpose.
Before He sent them out in pairs, Jesus briefed His apostles on the Great Commission, and instructed them to go out and spread the gospel to the four corners of the Earth.
They were sent out in pairs for support, fellowship and protection as they traveled long distances throughout their missionary journey.
Also, since two witnesses with the same testimony about Jesus are far more compelling than a solo evangelist, God's message would be even more powerful when delivered by two disciples rather than one.
As such, we are called to do the same, advance the gospel and serve the risen King, and do so with the help of a partner, a fellow servant of God.
Yoked, Yanked.
Take a moment to look around, and examine your life. Most of us are tied to someone, either a mate or a friend, a parent or sibling, even an enemy.
Those we are yoked with define who we are, as we become them and they become us.
God does not want us yoked to someone who's taking us away from Him.
We should not allow for anyone to distance us from God, to yank us from the fulfillment that comes along serving the One who died for us.
Such a partner is not what God intended for His servants.
The right teammate will support you in your purpose driven decisions, inspire you to serve and honor God, lead you to the mission field, follow you along the narrow path, keep you from falling and lift you up when you are down…
Were you able to glean and grow from this message so God can be further glorified and His Kingdom magnified? If so, I would love to hear from you. Follow this link to get in touch… Let's pray!
Father God;
We thank you for your presence in our lives,
We praise you Lord for the wisdom found through Matthew,
And we ask you Lord to help us find joy in your perfect plan.
Allow us to praise and love each other through faith in you Jesus,
Shield us from evil through your Word, salvation and prayer,
Guide us to abide by the truth as we spread the good news to one and all,
And lead the lost to You.
God we pray that you will continue to bless us,
To bless our lives and fill us with hope.
We ask you Lord to guide our footsteps and lead us to the way everlasting,
Through faith in you Lord we seek salvation and our place with you in Heaven
According to your ways, your everlasting wisdom and strength.
May your will be done, here on Earth and through the vast Universe,
May our hearts be filled with your everlasting love and grace.
Praises to You God, Amen!
This message was written by Daniel St.Pierre