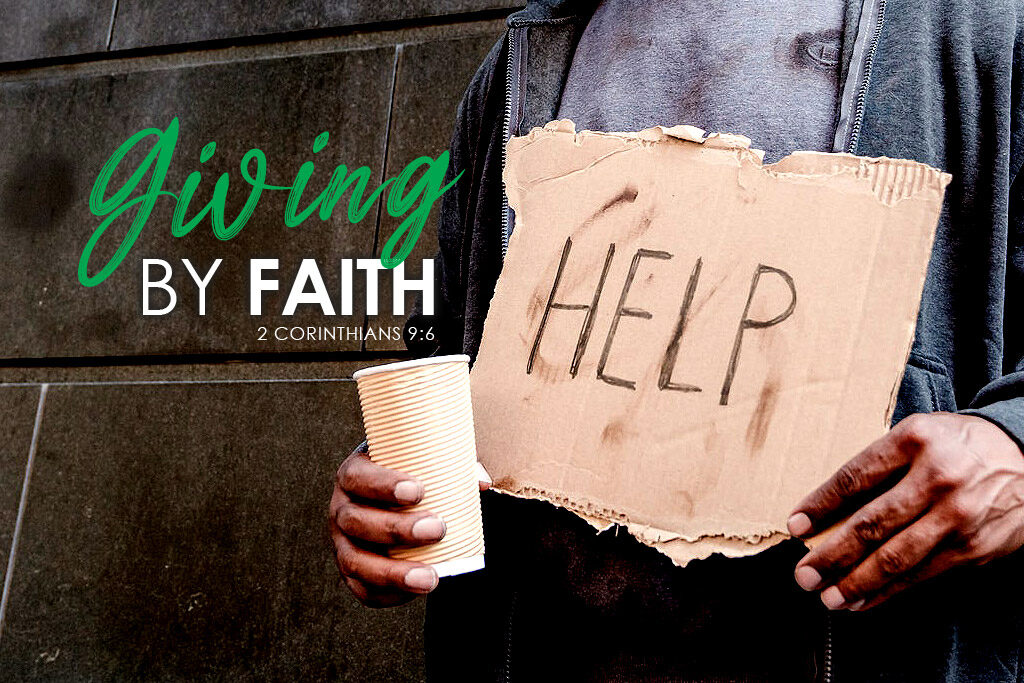 "6 But this I say: He who sows sparingly will also reap sparingly, and he who sows bountifully will also reap bountifully."

2 Corinthians 9:6
Do you give money to beggars?
I ask because I can't find a better way to illustrate cheerful giving.
Of course, helping a family out after a disaster like a house fire, that's highly commendable too.
And tithing, that's also critical to spiritual growth.
What I'm talking about here is unique in its perspective, and somewhat divided among God's church.
On one side, we have cheerful givers who do not discriminate on those they give to. When faced with the choice to give or not to give, cheerful givers feel the desire to open their wallets, every time.
Now there are times when even the cheeriest of givers refrain from reaching for their wallets, for example, when safety is an issue.
Then, there are the non givers, those who justify saying no to someone in need.
Non givers will find an excuse not to support beggars, often pointing to drug or alcohol addiction as reasons to keep their money to themselves, and say no to someone in need.
I even had a Baptist "pastor" repeat the same old story how on more than one occasion, he gave his hard earned money to a homeless man at a gas station, then he spied on the hobos and witnessed them go straight to a liquor store next door and come out with booze in a brown paper bag every time.
I am filled with shame that it was this Christian pastor who convinced me to stop giving to beggars and the homeless.
You see, before I served under this horrible man, my family and I had "hobo packs" in our cars so we could bless those in need with food and water, and on countless occasions, a little cash.
For decades, I've given to those in need, opening my wallet and reaching from the left side of my stack, where I would keep single dollar bills.
I've wished many times that I would have the courage to grab bills from the right side of the short stack, but those would typically be $20's, $50's or $100's.
Today, as I was sitting at a red light in my Candy red Chevy Camaro, after a most glorious drive to work, I saw a homeless man holding up a sign asking other drivers for help.
I was overcome with purpose, and my heart pumping out of my chest, I reached for my wallet for the first time in a long time, and low and behold, I only had two bills in there: Both were $20's.
I grabbed the $20 bill on the right, and handed it to the man.
He looked at the folded $20 dollar bill, then looked right at me and stared for a few seconds. All he said was God bless you.
At that moment, I felt more blessed than I had in ages.
The feeling I received from giving the man $20 was worth more than twenty bucks, I'll tell you that. 🙂
God made it simple for me, but once I gave Him the wheel.
Cheerful giving is a true gift from God.
It you do not yet possess this precious gift, chase it until you find it!
Place your trust in God, He will never forsake you.
Were you able to glean and grow from this message so God can be further glorified and His Kingdom magnified? If so, I would love to hear from you. Follow this link to get in touch… Let's pray!
Father God;
We thank you for your presence in our lives,
We praise you Lord for the wisdom bestowed upon Paul,
And we ask you Lord to help us find joy in your perfect plan.
Allow us to praise and love each other through faith in you Jesus,
Shield us from evil through your Word, salvation and prayer,
Guide us to abide by the truth as we spread the good news to one and all,
And lead the lost to You.
God we pray that you will continue to bless us,
To bless our lives and fill us with hope.
We ask you Lord to guide our footsteps and lead us to the way everlasting,
Through faith in you Lord we seek salvation and our place with you in Heaven
According to your ways, your everlasting wisdom and strength.
May your will be done, here on Earth and through the vast Universe,
May our hearts be filled with your everlasting love and grace.
Praises to You God, Amen!
This message was written by Daniel St.Pierre