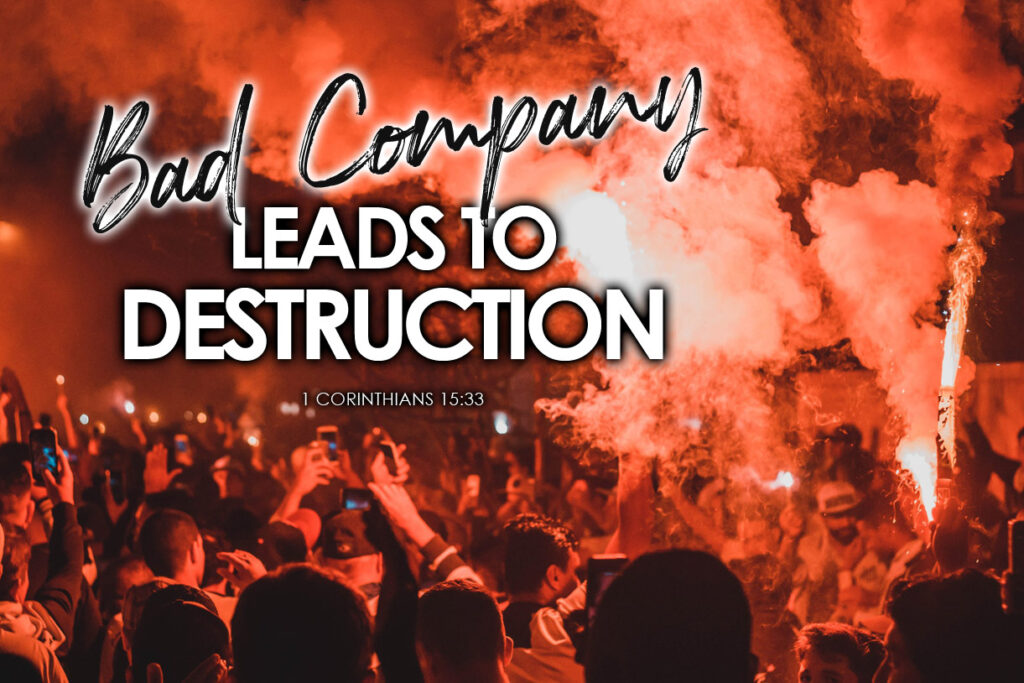 "33 Do not be deceived: "Evil company corrupts good habits."

1 Corinthians 15:33
By our faith in the risen Savior, believers are called out of darkness and into the light so we can spread the good news about Jesus, share our testimony and witness to those who will hear the gospel.
With this in mind, why would anyone ever want to go back to walking in darkness again?
That's precisely what we do when we choose to walk with fools who are headed to destruction.
The problem with bad company is, sooner or later, surrounding ourselves with people who dwell in the darkness of the world will eventually cause us to stumble, and fall.
In His word, God warns believers of the penalty that comes along walking with the lost, and the possible eternal cost of a continued walk with those who turn their backs on God.

"20 Whoever walks with the wise becomes wise, but the companion of fools will suffer harm."

Proverbs 13:20
I have been on my Christian walk since the month of October, 2000.
Along the path, I found it much more fulfilling and just plain easier to serve God when I was surrounded with fellow warriors.
On the flip side, I recognized the hardship that comes along serving God in more challenging places, mission fields where the enemy reigns.
This is why it's important to walk the path with a fellow servant, just as Christ commanded us to do as part of the Great Commission.
Whatever you do, keep your focus on the Lord and complete the work He gives you to do, for His glory.
Surround yourself with purpose driven folks, and rid yourself of bad company, the kind of people who choose to serve the enemy.
You are better off alone, in Christ, then immersed into sin, surrounded by transgressors of God…
Were you able to glean and grow from this message so God can be further glorified and His Kingdom magnified? If so, I would love to hear from you. Follow this link to get in touch… Let's pray!
Father God;
We thank you for your presence in our lives,
We praise you Lord for the wisdom found through Matthew,
And we ask you Lord to help us find joy in your perfect plan.
Allow us to praise and love each other through faith in you Jesus,
Shield us from evil through your Word, salvation and prayer,
Guide us to abide by the truth as we spread the good news to one and all,
And lead the lost to You.
God we pray that you will continue to bless us,
To bless our lives and fill us with hope.
We ask you Lord to guide our footsteps and lead us to the way everlasting,
Through faith in you Lord we seek salvation and our place with you in Heaven
According to your ways, your everlasting wisdom and strength.
May your will be done, here on Earth and through the vast Universe,
May our hearts be filled with your everlasting love and grace.
Praises to You God, Amen!
This message was written by Daniel St.Pierre