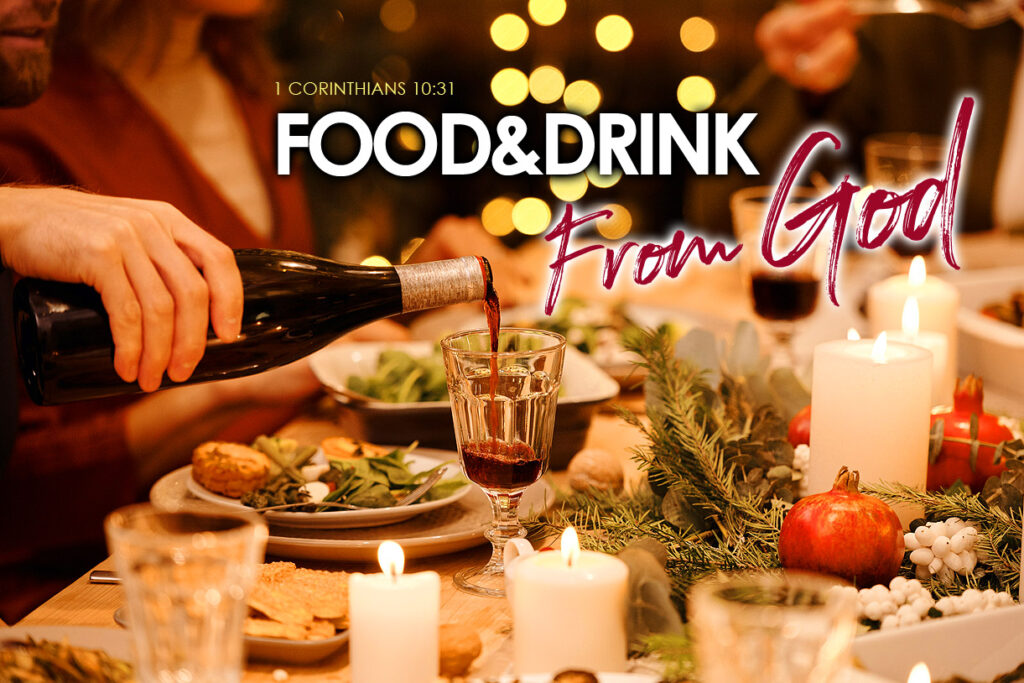 "31 Therefore, whether you eat or drink, or whatever you do, do all to the glory of God."

1 Corinthians 10:31
It's no secret that God wants us to rejoice and be merry, as we walk the narrow path along side countless other believers.
After all, He has provided quite a colorful array of ingredients, spices, protein and produce needed to create nutritious and delicious meals of all kinds, all over the globe.
Today, I was blessed to sample food from the Middle East in a most unexpected setting. Although at first, I was not quite on board with the culinary adventure, after I took a bite of the slow roasted chicken, it only took a few seconds for me to realize this was going to be the best food experience I've had in a while… 🙂
From red and white cabbage to cucumber salads, tzatziki, humus, peas and grape tomatoes, succulent beef, lamb and chicken, freshly baked pita bread and oil dip, God manifested His presence through the hands of one of His servants, in a succulent way.
What's interesting about my culinary experience is, I was led to return to the cook and praise him for the delightful meal he made possible.
He gave the glory to God.
I was pleasantly surprised to hear the cook redirect my compliments to the source of the his success, and gave praise to the One and only true God.
I did the same when I watched the cook start loading my tray with generous servings of each mouth watering side items, then piled on the protein which he topped with a creamy, homemade tzatziki.
Undeserving.
When I was served the mouth watering Mediterranean extravaganza, I was overwhelmed with feelings of humility and incredible fortune to be sharing such a feast with a loved, one who was also in need of a small miracle.
I felt undeserving.
It was through a culinary experience that God moved in our lives today, and set the tone for the rest of the day.
My friend and I allowed God to manifest His presence in a simple way, and our hearts were instantly filled with appreciation, and by His grace, our bellies were filled with award winning food.
The good thing about food and drink is, how we appreciate it very much depends on our circumstances.
For example, someone who has chocolate cake for dessert 3-4 times a week might get tired of the same old same old after a while, and not quite enjoy a surprise piece of chocolate cake on a date… 🙁
Likewise for those who are blessed (or cursed) with wealth, the kind of folks who can eat whatever they want, with no care for cost. It's human nature, eventually, for those who have plenty, the desire for fancy food or drink fades.
I give praise to God that my walk along the narrow path has humbled me even further in recent months, and that even the simplest meals provide powerful moments of gratitude, from which glory is lifted up to our heavenly Father.
If you're not giving praise to God for each bite of your food, or every sip of each drink, maybe you need a break from food & drink for a while… It's called fasting!
On the flip side, if you are among those who praise the King of kings for all He provides for your table, then blessed are those who will glean from the harvest of your works and set their spiritual compass in tune with yours.
Eat, drink and give praise to God. Be merry for all He provides. #TGBATG
Were you able to glean and grow from this message so God can be further glorified and His Kingdom magnified? If so, I would love to hear from you. Follow this link to get in touch… Let's pray!
Father God;
We thank you for your presence in our lives,
We praise you Lord for the wisdom found through Paul,
And we ask you Lord to help us find joy in your perfect plan.
Allow us to praise and love each other through faith in you Jesus,
Shield us from evil through your Word, salvation and prayer,
Guide us to abide by the truth as we spread the good news to one and all,
And lead the lost to You.
God we pray that you will continue to bless us,
To bless our lives and fill us with hope.
We ask you Lord to guide our footsteps and lead us to the way everlasting,
Through faith in you Lord we seek salvation and our place with you in Heaven
According to your ways, your everlasting wisdom and strength.
May your will be done, here on Earth and through the vast Universe,
May our hearts be filled with your everlasting love and grace.
Praises to You God, Amen!
This message was written by Daniel St.Pierre